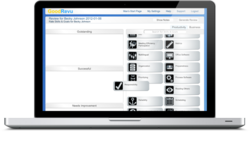 "Using GoodRevu we moved beyond bothersome forms and got performance reviews done quickly and effectively." -- David Levinson, Administrative Director at Levinson
San Francisco, CA (PRWEB) December 19, 2012
GoodRevu (http://www.goodrevu.com) announces the launch of easy-to-use performance evaluation software to help people and organizations with performance review season.
Web-based performance evaluations: GoodRevu is web-based software, designed for individuals and organizations. GoodRevu helps people create structured performance reviews in minutes. GoodRevu uses an intuitive, patent-pending interface where people create reviews by selecting and sorting icons representing work skills & goals. This design decreases the time required to create appraisals and puts the emphasis on constructively using them to increase performance.
Instant use: GoodRevu is available for a 30-day trial, which includes use of business and productivity skill and goal content for creating evaluations. GoodRevu is an instant-access software application. GoodRevu provides accounts immediately. There is no implementation needed. A trial customer can sign up using their email address, begin creating performance evaluations and test the software. Free trials are available here: http://www.goodrevu.com.
"We are eliminating all the barriers to using software for performance evaluations, beginning with the barrier of having to talk to a sales representative just to test the software," say co-founders Christian Meyers (CEO) and Jeffrey Rothman, Ph.D. (CTO).
For organizations: Companies with several employees and organizations with hundreds of employees have deployed GoodRevu without needing traditional software implementation services and rapidly completed performance evaluations.
"Using GoodRevu, we moved beyond bothersome forms and got performance reviews done quickly and effectively. The GoodRevu software is intuitive and easy to use. It's so easy that our managers were ready with 20 minutes of training. Given our new performance management process' speed, we can focus on optimizing and becoming even more productive." David Levinson, Administrative Director at Levinson.
For individuals: GoodRevu is also used by individuals who need to get performance evaluations efficiently completed. Many people find their corporate-supplied software does not help them complete performance evaluations. They face the prospect of spending days and weekends completing performance evaluations. To solve this problem, people in organizations of all sizes use GoodRevu to complement their corporate systems. They complete reviews in GoodRevu and enter results in their corporate systems.
Serving many industries: GoodRevu has won a diverse customer base with subscribers in construction, consulting, consumer electronics, education, finance, government, healthcare, manufacturing, hospitality, outsourcing, pharmaceuticals, restaurants, retail, software, technology and warehousing & distribution.
Replaces paper and legacy software: GoodRevu customers are replacing paper, spreadsheets and difficult-to-use legacy software forms. These customers seek to timely complete performance appraisals so they can apply them to increasing performance and helping their employees, teams and organizations.
GoodRevu for industries: For customers that need more performance evaluation content, GoodRevu also offers job-specific performance evaluation content for jobs such as administration, consulting, customer support, human resources, marketing, operations, sales, software engineering and more. GoodRevu is customizable for different industries. Customers in industries such as manufacturing, restaurant services and high technology have added their own company-specific and industry-specific performance evaluation content.
About GoodRevu
GoodRevu was started by cloud-computing software and human resources software veterans who came from Lyris, Inc., salesforce.com, inc. and SuccessFactors (an SAP Company). GoodRevu is a cloud-computing software company building intuitive, self-service performance management software that uses design principles from consumer software. GoodRevu's investors and advisors include cloud-computing software, human resources and mobile technology entrepreneurs. GoodRevu is based in San Francisco, CA.
Contact:
Christian Meyers
415-325-2048
media(at)goodrevu(dot)com
http://www.goodrevu.com
###
©2012 Flexigoal, Inc. All rights reserved. Flexigoal and GoodRevu are trademarks of Flexigoal, Inc. Other names used herein may be trademarks of their respective owners. The GoodRevu software and related software applications are patent-pending.