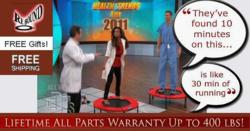 Goods & Giving was created to offer affordable, high quality merchandise in a cooperative partnership where profits are shared with customers, employees and our community.
Founder Robert C. Ectman
Tempe, AZ (PRWEB) November 26, 2012
Goods & Giving was created to offer affordable, high quality merchandise in a cooperative partnership with customers, employees and the community. They offer a big selection of over 450 great products and gifts in categories that include: Home Décor, Toys & Games, New Products, Bath & Body Care, Just for Her, Scented Candles, Furniture, Garden Décor and more. Goods & Giving, for their Cyber Monday Grand Opening, is offering 15% off all Featured Items and promoting "Health and Fitness" with 10% off all 3 ReboundAIR™ Mini-Trampoline models.
To answer a common question: "Is my personal information secure when I make a purchase?" Yes, Goods & Giving takes the privacy of personal information very seriously. Under no circumstances will Good & Giving divulge, share or sell customer information without expressed permission from the customer in accordance with the Privacy Policy.
Goods & Giving uses the internet standard of 128-bit SSL encryption to keep information secure and they do not store any credit card information. When a customer makes a purchase it goes through PayPal. Financial information is securely stored on PayPal's servers and protected with state of the art encryption which is heavily guarded, both physically and electronically.
The Goods & Giving online store is very user-friendly and easy to navigate. There is the vertical navigation bar at the top with the most popular departments like "Collectibles" and "Home Décor". From there customers can hover over "See All" departments and click on one to view all the products in that department. To view all departments and sub-departments at once, a customer can click "All Department and Product Categories" on the left bar.
First time visitors just add items to their cart and register during checkout. Once registered, the next time they come to shop, they can either sign in anytime while shopping or during the checkout. Once an order is placed, an e-mail will send out confirming the purchase details. Orders are usually filled the same day, but no later than one business day. Customers will be notified as soon as their item(s) have shipped and should expect to receive their order within 7 business days. The status of a customers order can be accessed from any page by clicking "My Account". All purchases come with a 30-Day Money Back Guarantee.
What makes Goods & Giving unique?
The company is an employee and customer owned Cooperative. Surplus revenues (income over expenses and investment) are shared with employees and returned to customers (members) proportionate to their use of the cooperative, not proportionate to their "investment" or ownership share.
Customers who purchase $50 or more in merchandise annually are automatically joint-owners. They receive many benefits including discounts on store items and gifts, special deals, yearly dividends, refunds on qualified purchases, input on new product acquisition, participation in management decisions and a vote on the allocation charitable donations. There is no obligation whatsoever. Customers can choose whether or not to be an active member.
Like all traditional cooperatives and employee-owned companies, Goods & Giving is not a charity but it is a non-profit managed democratically by customers and employees to fulfill their needs and desires and to serve the community.
Goods & Giving is also a social business and advocate for charitable giving. The organization will not only share profits with customer and employees, but a percentage of excess revenue will also support youth education, youth development, community cooperation, social entrepreneurship and job creation initiatives. Good & Giving currently donates 15% or more of net proceeds to two charities that support Youth Development and Education. Please visit their "About Us" Page for more information.
If anyone has any questions, suggestions or comments, Goods and Giving can be contacted anytime through email, by visiting their website and clicking "contact us" or toll-free by phone to speak with a representative Monday - Saturday, 9:00 am - 9:00 pm Mountain Time.
Goods and Giving is an Equal Opportunity Employer and does not discriminate against anyone on any basis including race, color, national origin, creed, political affiliation or belief, age, religion, sexual orientation, gender or disability.