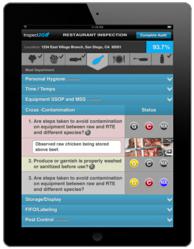 The iPad app will reduce our costs and improve food safety for our Navy Sailors.
Milwaukee, WI (PRWEB) March 13, 2012
Inspect2GO's Food Safety Inspection App (http://www.inspect2go.com/food) has been selected by Goodwill Industries of Southeastern Wisconsin, Inc. (Goodwill Great Lakes), for inspection of Galleys at Naval Station Great Lakes. The iPad-based software eliminates paperwork and improves efficiencies in logging all information electronically, during kitchen/galley inspections.
This specific application is configured for daily, weekly and monthly inspections. The food safety inspector walks through the kitchen/galley following an extensive checklist. Items are checked and notes/images are taken where issues arise. Previously, these food safety inspections were performed using a clipboard and a separate camera. With Inspect2GO's app, paperwork is reduced, the process is streamlined and the data is stored accurately and permanently.
"Inspect2GO adapted its food safety software to our unique needs," said Joe Nikolaus, Director of Process Improvement and Review for Goodwill Great Lakes. "The iPad app will reduce our costs and improve food safety for our Navy Sailors."
"This project has a special place in our hearts," said Paul Smith, President of Inspect2GO. "We are honored to play a small role in assisting Goodwill and the U.S. Navy."
The Inspect2GO Food Safety/DOH Health Inspection Apps can be configured to include the following functions, several of which are included in the Goodwill project:

Data collection and field surveys
Electronic signature capture
Photo/Image capture
On-screen drawing to markup images
PDF reporting generation from iPad
Data push/pull between SQL cloud server and iPad app via web services
Database hosting and advanced reporting
Thermometer
Data analytics, graphing, charting, site comparison and trending over time
Custom HACCP audit mobile applications
Supermarket chain food/workplace safety and HACCP apps (grocery, meat, dairy, bakery and produce inspection)
Restaurant Inspection iPad Apps - Franchise Restaurant HACCP, Food Safety and Workplace Safety Apps
iPad School Inspection - Cafeteria Kitchen Inspection per USDA/FDA standards
Health Department (DOH) Food Safety Inspection iPad Apps(EHS, Local City/County DOH)
Violation, time control logs, danger zones
GRP Good Retail Practices
HACCIP App Subsections Include: Personal hygiene, food preparation, hot holding, cold holding, refrigerator/freezer/milk cooler, food storage/dry storage, cleaning/sanitizing, utensils/equipment, garbage storage/disposal, pest control
Custom iOS (iPhone, iPad), Android mobile apps / .Net, Windows 8 and HTML5 web apps
About Goodwill Great Lakes
The U.S. Navy, Goodwill and NISH are partnered at Naval Station Great Lakes through the AbilityOne Program. This program provides employment opportunities for individuals with significant disabilities. Through training and workforce development support, Goodwill professionals work closely and directly to assist program participants to overcome barriers so they become independent and self-sustaining individuals who contribute to their communities. The U.S. Navy and Goodwill have been partnered for 14 years providing food service at Naval Station Great Lakes. Nearly 700 people with significant disabilities are employed by Goodwill Great Lakes. Last year, operating in 10 galleys, Goodwill served 8.9 million meals to recruits and Sailors at Naval Station Great Lakes.
About Inspect2GO
Inspect2Go, Inc., is a mobile application development company based in Southern California. The firm's technology includes inspection checklist mobile apps with signature, photo, markup, pdf email, database and custom reporting functions. The checklist apps are compatible with Apple iOS (iPhone, iPad) and Android. Inspect2go's EHS (Environmental Health and Safety) software is focused on HACCP and Food Safety Inspection. These include custom HACCP audit applications, sanitation and hygiene apps, hospitality audit inspection checklists, workplace safety checklists and kitchen inspection applications. Specific apps based on USDA/FDA guidelines can be tailored to unique school cafeteria, hospital, hotel, restaurant, special event and wholesale food processing needs.