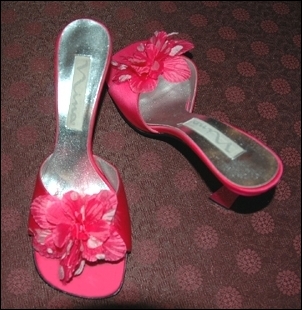 Los Angeles, CA (Vocus) March 1, 2007
Calling all fans of "America's Next Top Model:" Items from the show's February 28 season premiere are now for sale on http://www.shopgoodwill.com. For five days only, you can purchase clothing and accessories from one of America's most popular reality shows on Goodwill's Internet auction site. The auction will run from March 1- 5. Proceeds will help fund job training programs offered by Goodwill Industries of Southern California (Los Angeles).
"Your purchases on shopgoodwill.com bring hope to people who want to work and support their families," says George W. Kessinger, President and CEO of Goodwill Industries International. Goodwill channels 83 percent of its revenues into job training and career programs for people with disabilities, welfare recipients, dislocated workers and others looking for jobs.
"America's Next Top Model" filmed its season premiere at the Los Angeles Goodwill's popular Los Feliz store. Fans who tuned into the season premiere saw the models use their creative talents to put together outfits that would turn heads on the catwalk. Beginning today, they can log on to http://www.shopgoodwill.com to bid on the very items modeled in the episode.
The show's producers donated the clothing and accessories to help Goodwill earn additional funds for its programs, and give fans the chance to make the reality show even more 'real' by adding the items to their personal wardrobes.
"We are grateful to The CW and 'America's Next Top Model' for their generosity," says Kessinger. "Viewers of the show will see the models demonstrate the fabulous fashion potential of the finds at Goodwill stores, and shoppers at our stores and online auction site help build the potential of people who want to go to work."
Since its launch in 1999, shopgoodwill.com -- the nation's first and only Internet auction site created, owned and operated by a nonprofit organization -- has earned more than $38 million for Goodwill programs in the United States and Canada. Some 17,000 items, selected from the millions of pounds of goods donated to the organization each year, are for sale on the site at any given time.
Contact
Christine Nyirjesy Bragale, ABC
Director, Media Relations
Goodwill Industries International
Ph. (240) 333-5264
# # #