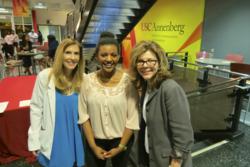 We're excited to combine our marketing skills with social good to help clients reach millions with a powerful story and meaningful messages. ~ Liz H Kelly, Goody PR & Goody Awards Founder
Santa Monica, CA (PRWEB) June 27, 2013
With 10+ years of PR experience, Goody Awards Founder Liz H Kelly announces the launch of Goody PR… This new company specializes in cause marketing campaigns for companies who want to have a positive impact. The group will focus on positive PR campaigns that are 3x more valuable than regular PR. To help clients get social good messages out there and engage fans, Goody PR does all aspects of PR and marketing. The …. in the GoodyPR… logo represents the many different marketing services and tactics that when combined, reach millions.
As part of the Goody Awards, Goody PR has developed cause marketing campaigns around lifetime achievement awards (ie the Golden Goody Award) for Academy Award Winners, foundation founders and everyday heroes making a difference such as Erica Greve, Unlikely Heroes Founder and Louie Psihoyos, Director of "The Cove." Sponsors have included Staples, Microsoft, Inkhead, and USC Annenberg, and they've promoted causes such as the UN Women, Greater Los Angeles Chapter, Oceanic Preservation Society and the 10×10 Campaign for Girls Education ("Girl Rising".)
Goody PR is happy to do Traditional PR campaigns, which typically include writing press releases, pitching stories to the TV, Print, Radio and Bloggers to get earned media, and media coaching. However, the company believes you can reach a much bigger audience by developing an integrated marketing campaign tied to an authentic cause. These cause marketing campaigns encourage a two-way dialogue tied to a meaningful story via social media, contests, videos, live events, awards (optional) and more.
These cause marketing campaigns include an overall strategy, goals, partners, sponsors, causes, press releases, media coverage, videos, contests, social media marketing, Goody Awards (optional) and live events. Goody PR loves reaching millions of fans using similar tactics that we used for multi-million dollar advertising campaigns at Fox Interactive Media/ Myspace for brands such as Toyota, University of Phoenix and Warner Brothers.
Future campaigns will include a Hero Campaign at Comic-Con, Journey Healing Centers campaign promoting the school they are funding in India through Free The Children, and Comedy Gives Back's campaign benefiting Malaria No More this fall. Goody PR is also providing Social Media 2.0 training to the Grammys MusiCares artists this week.
About
Marketing, PR and Digital Media Guru Liz H Kelly founded both Goody PR (Sunrise Road Media Inc) and Goody Awards. She decided to use her corporate marketing background at Fox Interactive Media/Myspace, Paramount Pictures and Sprint PCS and PR experience as a published author with 500+ interviews for good. Goody PR is also active in the community, and speaks on panels at Digital Hollywood, Social Media Club LA, Social Media Week, Silicon Beach Fest and more. We're also on the Advisory Board of Net Impact LA and Global Girl Media, and love sharing good news. http://goodypr.com and http://twitter.com/goodyawards