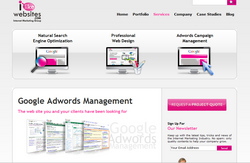 New York, NY (Vocus) February 27, 2010
Rough times demand smarter, not bigger investments. Ilikewebsites.com knows how to manage AdWords campaigns in a cost-effective way to control advertisement expenses.
Ilikewebsites.com now offers AdWords campaign management for those companies interested on affordable Search Engine Marketing (SEM).
Advertising on the Internet requires an effectively managed AdWords campaign. This way, it is possible to ensure exposure to a targeted market with an upper hand over myriads of competitors.
AdWords is a marketing program developed by Google that reduces the distance between products and potential clients as they research all through the Internet. With an always-increasing array of companies Internet users have to choose from, how can a company stand out from a crowd that grows bigger every day?
A properly managed AdWords advertisement campaign can help a company position its web site as a relevant source. The keywords used on a query will determine the ads to be diplayed on Google, narrowing the target to a specific crowd.
Google AdWords is a tool suited for anyone who wants more sales and targeted promotion. AdWords was designed to help its users build up strategies to expand the marketing reach of their companies throughout the Internet, regardless of the business.
For more information about our Adwords Management Program, visit Ilikewebsites.com.
###