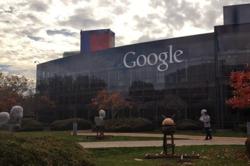 What it means for Clients is that we now have greater insights into Google, translating into improved marketing and digital campaigns using their products
Minnetonka, MN (PRWEB) November 29, 2012
Del Monte Agency announces its selection as a Google All-Star in Google's Engage for Agencies All-Star Summit Fall 2012. Google Engage for Agencies is a program developed by Google to identify and support the best small and medium-sized digital agencies worldwide and recognize their achievements in digital advertising. Del Monte Agency was selected as an "All Star" and was invited to attend its Fall Summit at the "Googleplex," Google's headquarters in Mountain View, California. Del Monte Agency's senior management attended the conference held November 13-15, 2012.
"I know that people have a 'love-hate' relationship with Google, but when you stop and think about what they've accomplished in the time Google has existed, it's really amazing. We were totally stoked to go and meet with the best in our business and the 'smart guys' at Google," said Bryan Del Monte, President of Del Monte Agency. The All Star Summit is the "grand prize" of Google's Engage for Agencies program. Top SEO/PPC performing agencies are eligible to compete in the Google Engage for Agencies program. Grand prize winners are invited to Google's headquarters for exclusive training and access. Only 100 of the top agencies from around the world were invited to participate. Del Monte Agency was selected for the Fall 2012 program out of about 14,000 agencies that are eligible to compete worldwide in the Google Engage program. Del Monte Agency's selection as an "All Star" further demonstrates its digital excellence and prowess, especially in the areas of search engine optimization and paid search (PPC).
During the trip to the Googleplex, Del Monte Agency was treated to rare access to the business development, marketing, and product training sessions with Google staff and program managers, as well as national thought leaders and TED-style talks. "What it means for our clients is that we now have greater insights into Google, translating into improved marketing and digital campaigns using their products," said Christian Del Monte, Chief Technologist for Del Monte Agency.
"I think it was a great experience for us," said Bryan Del Monte. "It was great to meet with Google, who plays such a large role in digital advertising, and discuss with them some of our thoughts and philosophies on how we see the evolution of advertising. Much to our delight, and admitted surprise, we found Google very receptive to the things our agency is trying to bring to the market and received a fair amount of encouragement as a result," said Del Monte.
About Del Monte Agency:
Del Monte Agency is an independent, full-service, advertising, marketing and communications, agency headquartered in Minnetonka, MN. As a boutique-sized advertising agency, we are pioneering what we call "non-advertising," a concept based on the belief that consumers are not passive and advertising is not effective if it is only about selling media. The technologies and philosophies utilized by the agency provide their clients with the ability to reach an international audience, connect with them, and develop prosperity for all stakeholders. The Agency focuses on businesses that are engaged in technological innovation and seek to "change the game" for the betterment of society. We seek to help today's entrepreneurs become tomorrow's market leaders and household names.