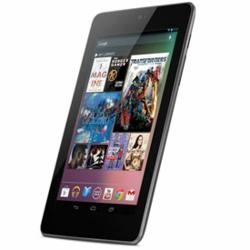 Denver, Colorado (PRWEB) January 20, 2013
Find My Price is constantly analyzing and monitoring online retailers' deals for electronics. The Christmas shopping season brought along many discounts on electronics (particularly tablets) that have given buyers on a budget the chance to purchase such a device sooner than they would have expected.
As online retailers are preparing for the spring product releases, http://www.FindMyPrice.net estimates prices on many tablets, TVs and cameras will be discounted. Google Nexus 7 is likely on that list.
Google Nexus 7 is a powerful tablet for the price tag it currently sells for. It runs a quad-core Nvidia Tegra 3 chipset that performs at 1.3GHz speeds on one core alone and 1.2GHz on at least two cores activated. Google Nexus 7 comes with the latest version of Android (Jelly Bean) which when combined with the default Chrome browser it results in a snappy web browsing experience.
Google Nexus 7 Pros & Cons review released by the company reveals that Nexus 7 is one of the most popular Android tablets available today, and its appealing tech specs and affordable price tag have ensured it will remain one of the frontrunners of the market. However, the $199 8GB, Wi-Fi version or the $249 16GB version, become even more appealing with online retailers' special deals for Black Friday, Cyber Monday or Christmas.
The upcoming months is going to be a good time to buy Google Nexus 7 on discount since producers are usually releasing the new generation of products, which immediately cuts down prices for the previous models.
The 7-inch tablet features a 1,280 by 800 IPS LCD with a performance that matches or betters pricier devices. Google Nexus 7 has a battery life of 10 hours and 37 minutes and connects to the Internet via a Wi-Fi connection.
As one of the leading price comparison platforms, Find My Price aims to deliver comprehensive and accurate reviews of some of the most sought-after electronics as well as many of those less popular. The website delivers unbiased reviews on electronics that range from premium to cheap, from popular to unknown. The team at Find My Price strives to deliver information that will help a buyer find the best online deals for the desired product.
There is a special focus at Find My Price on tablets, since these have been labeled as the moment's hottest electronics. Their appeal with the consumers is high but the significant number of product available is giving buyers a hard time identifying the tablet that will give the most bang for their buck. The reviews for tablets available at Find My Price are designed to answer buyers' questions and dilemmas regarding a product's tech specs, battery life, screen quality, app potential, gaming performance. Reviews take into account not only the price tag and product description, but also others' performance test results, competitor product and consumer feedback.