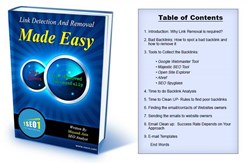 The days are gone when a link could be used to point to a website without the threat of negative impact on the site
Los Angeles, CA (PRWEB) October 11, 2013
1SEO1, a company that helps website owners detect spammy links and remove backlinks, recently announced the launch of a new e-book, "Link Detection and Removal Made Easy." The book, written by Mayank Jain, a SEO analyst, teaches readers the best way to launch a Penguin 2.1 Recovery by spotting, collecting, analyzing, and cleaning up useless backlinks.
Google recently launched a new tweak to Penguin, one of its many algorithms, called Penguin 2.1. The update was meant to attack web spam and decrease the rankings of websites that did not meet Google's quality guidelines. Penguin 2.1 affected a number of websites in an extreme way: while many websites were able to recover and regain their traffic, some websites lost their businesses.
1SEO1 published the new e-book—downloadable through its website—to help webmasters start a Link Detection and Removal Program. If used correctly, the Backlink Removal tips provided by 1SEO1 can affect the website's Google ranking positively. "Link Detection and Removal Made Easy" aims to provide the necessary information and tools needed to boost rankings in accordance with Google Panda and Google Penguin's guidelines, especially because Google does not always warn webmasters about penalties against their site.
"The days are gone when a link could be used to point to a website without the threat of negative impact on the site," states the book. "Panda and Penguin updates hit many sites last year—you will realize a sudden drop in your traffic. This is an alarming situation that forces you to think about how it happened. Most of the time it is because you need to remove poor links."
"Link Detection and Removal Made Easy" is comprised of nine easy-to-read chapters. The content is arranged in a simple, step-by-step format that explains the backlink removal process to the user. "Link Detection and Removal Made Easy" is available at no charge; readers only need to sign up through 1SEO1's website in order to receive an access code.
Individuals interested in learning more about 1SEO1 and Google Updates can visit the company's website for more information.
About 1SEO1:
1SEO1 is a well-established agency with 40 permanently employed professionals and about 30 freelancers. The company provides consultations to individuals interested in regaining their website rankings by Web 3.0 and helping website owners to remove their spammy backlinks. 1SEO1 employs a set of efficient staff that is well trained in link detection and link removal process. For more information, please visit http://members.1seo1.com.