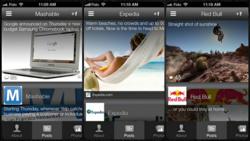 Imagine if you had the opportunity to be one of the first brands in your industry to develop a presence on Facebook in its first year, armed with the knowledge that you have now?
Vancouver, BC, Canada (PRWEB) October 22, 2012
The week of October 15th 2012 was a big one for businesses using the Google+ mobile app. Version 3.2 was announced and made available for updating on iOS and Android, finally allowing brand managers the ability to access and manage their brand pages. For those that place importance on timeliness in their brand's social sharing activities this is a huge step in the right direction. Months since its release, Google+ pages could only be adequately maintained from a laptop or desktop, frustrating the efforts of those constantly on-the-go. That has now changed. Another note is that Google+ has now introduced a mobile app feature that offers better consolidated brand page management and deeper engagement than that of the mobile app provided by perceived rival Facebook. Many wonder if this will now spark businesses to start taking full advantage of Google+ as their primary social sharing tool.
Google has been very clear that the presence of Google+ is about much more than social networking. Instead, it intends Google+ to be a piece of the puzzle that merges Google user accounts (Gmail, YouTube, Local Pages, Picasa). The social sharing aspects of Google+ serve to add value to this amalgamation by allowing interaction with others. This interaction creates an interconnected network. Since all of this takes place within the "Google-sphere" building one's network has direct implications upon the Google search results of anyone within the network. If a user is logged into one of their Google accounts, their search results with be impacted accordingly. Thus, a business wants to be sure to include as many customers within their Google+ Circles as they possibly can so that their business is found before any other when a user from within their network performs a related product/service search. By Google+ adding support for brands on its mobile app, it has made this process even easier.
Even with the publicized search implications and a steadily growing total of well over 100 million users, many Google+ brand pages resemble a ghost town, with a severe lack of updates and virtually no relevant following. While somewhat surprised at the slow response of brands to adopt Google+, internet marketing firms such as Standard Marketing Ltd see this lack of early adoption to be a tremendous opportunity for brands seeking to strengthen their internet marketing strategy and as an entry point for those that have had little success with social network marketing in the past.
Marcus Maraih, Social Media and Content Development Manager for Standard Marketing comments "Imagine if you had the opportunity to be one of the first brands in your industry to develop a presence on Facebook in its first year, armed with the knowledge that you have now? That's what's happening on Google+. Brands have the opportunity to be the first of their kind for either their industry and/or region to engage users who are also looking to build their own Circles. Google+ public and page users are more open and willing to add brands to their Circles to simply get their own following count up. Brands that offer the best engagement early on can create networks of customers that will have their search results skewed towards their business. The early bird gets the worm. It's early. Go get it." Standard Marketing urges brands to focus daily efforts on Google+ pages and to download the updated mobile app immediately to aid in this effort.
ABOUT Standard Marketing Ltd.
Standard Marketing Ltd is an established internet marketing company and website design firm in Vancouver BC, Canada. We've been creating success locally and across North America since 1999 and have a long string of clients who've been with us for many years. We've developed expertise in all aspects of internet, website, and digital marketing. We have an A+ rating with the Better Business Bureau. Contact our Vancouver internet marketing company today. Your Customers Are Your Business – The Internet Is Ours.