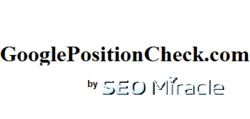 SEO Miracle decided to offer a reliable solution for checking Google rankings and now the Google rank checker has entered top 10 tools for checking rankings.
Miami Beach, FL (PRWEB) May 10, 2012
Internet is full of websites that offer their visitors to check Google rankings for free, and many people reported that a lot of those tools are not reliable nor provide accurate information. Experts say that it is always the best option to use a couple of tools to check Google rankings and be 100% sure that an SEO campaign is heading towards success, and not wasting time.
SEO Miracle is one of the leading SEO companies in the United States that is constantly available to its customers. At SEO Miracles, they go above and beyond for their clients by offering not only reliable and fast SEO services, but also a complex system which helps in reporting client about the client's SEO work.
SEO Miracle recently released a Google rank checker and decided to offer a reliable tool that will allow people to check Google rankings freely. Many of big business owners spend a large amount of money on promoting their businesses online, considering it to be an important investment, and desperately needed one. This way they can make a part of the SEO campaign and be aware of each step of the campaign by monitoring their website rankings.
Joshua Hood, CEO and a co-founder of SEO Miracle, has a number of theories why people should use the Google rank checker, "People pay a lot of money for SEO services and let's even forget about the fact that they often end up with wrong people, and try to reach success by simply trusting other people's estimations. SEO Miracle decided to offer a reliable solution for checking Google rankings, and now the Google rank checker is among top 10 tools for checking Google rankings. It is a great recognition and an indication of our hard work and a true desire to help people in ranking on the first page of Google."
SEO Miracle announced to push their Google rank checker tool even further up the list and increase a number of users which according to Joshua Hood, will not be that difficult.
If you would like to visit SEO Miracle's website and see what they have prepared for their clients, go to http://www.seomiracle.com or call their office phone at 305-432-2350.