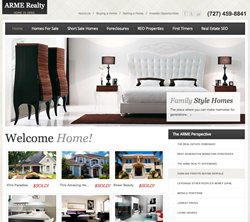 Google marketing is considered an indispensable tool for real estate professionals marketing their properties online.
Largo, FL (PRWEB) October 05, 2013
The Google search engine has been an indispensable real estate marketing platform for professionals around the country. Because of this, a Florida company ARME Realty.com has pioneered the development of a real estate Google marketing tool that allows real estate web masters to leverage the power of Google into a lead generation tool perfectly positioned for maximum return on marketing investment.
The company has dubbed their Google marketing tool the Web Development Toolkit For Real Estate Professionals, and at this time the software exists solely for the purpose of helping realtors list and sell more homes. The software accomplishes this by providing real estate web developers with various tools designed for producing targeted real estate content en masse and allows realtors to distribute the content across hundreds or even thousands of thousands of targeted pages.
Simon Landers, a spokesperson for the company, states, "Google marketing has single handedly changed the way real estate professionals market their properties. With the release of platforms like Google Places and Google's own Zero Moment of Truth marketing platform, real estate professionals are utilizing Google's search engine for their real estate marketing needs more now than ever before."
Mr. Landers continues, "Now thanks to the latest version of our ARME Realty development kit for real estate web masters, real estate professionals and web masters can now virtually attack Google with hundreds or even thousands of targeted website pages showcasing the brokers' listings and other inventory. This virtual attack translates into more targeted traffic, which in turn translates into a larger pipeline. This pipeline then eventually translates into more homes sold or listed."
Google marketing for real estate is now considered a vital function for any real estate brokerage firm looking to stay ahead of their competitors. In most markets, the selection of available real estate agents is overwhelming prospective home buyers as there are simply too many to choose from. Prospects are having a difficult time trying to decipher which brokerage is best. As a result, the new rule of thumb is that the first person a prospect finds on Google when doing a real estate related search is generally the first person to have a conversation with that broker. ARME Realty.com's toolkit aims to provide their broker clients the opportunity to capture multiple first page listings with their high powered service offerings.
For more information about ARME Realty and their portfolio of services contact the firm at (727) 459-8841 or visit their website ARME Realty.com today.