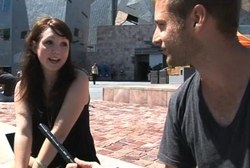 I think the writing is on the wall for many offline print publications - the consumers are voting with their eye balls.
Melbourne, Victoria (PRWEB) April 7, 2010
A lot of fuss has been made over the Yellow Page and whether or not print is still viable. Obviously the Yellow Pages will do everything in their power to demonstrate their effectiveness, while online-players will have you believe the opposite. So who's right?
In a recent survey conducted by Melbourne SEO Services, a cross section of people from the streets of Melbourne were asked a series of questions to help answer the question. Questions asked included "How do you search for products and services you need?", "What search engine do you use most?", and "How often do you use Google?"
The results were clear, with 53.85%, of respondents saying they haven't used the yellow pages in the last year, while 100% of respondents said they use google every day. One respondent even commented "I reckon the yellow pages is obsolete: why would you spend money on the yellow pages when they'll just as easily find you on Google?"
Unfortunately for the Yellow Pages, surveys such as this aren't the only indication Yellow Pages is falling from the public's mind. Early indication could be taken from SuperMedia (Yellow Pages United States) who announced a decline in '09 profits citing, among other reasons, "… declining use of print yellow pages directories".
"It's obvious the attitudes and habits of consumers have clearly shifted, with people switching to the internet to find products and services within their local area" says David Jenyns of Melbourne SEO, "I think the writing is on the wall for many offline print publications - the consumers are voting with their eye balls."
Furthermore, the Yellow Pages, seeing the decline in effectiveness of print media, is rapidly looking to the internet for alternative means to add value to their clients - most recently, entering into agreements with major search engines such as Google and Bing to provide sponsored business listings for their local customers.
This may be critical when you consider respondents were also asked to comment on their behaviours once a search had been entered into Google with 100% of peoples saying they don't look past the first page.
"People aren't interested in understanding how Google works, they just trust Google's results will be the most relevant and important," David explains "For this reason, it's now more important than ever to feature prominently on Google".
With all that being said, the print Yellow Pages will not disappear any time soon as businesses continue to buy advertising space. Who knows how long this will last but, as with any form of advertising, it only lasts as long as long as there is a positive return on investment for the business running those ads.
To find out more about the survey and see the complete survey results please visit : http://www.melbourneseoservices.com/google-vs-yellow-pages/ or call (03) 8060 5131 during office hours.
Melbourne SEO Services is a boutique search engine marketing company based in Melbourne, Australia - helping small to medium sized business market their business more effectively online. To find out more about us, read our SEO blog.
###