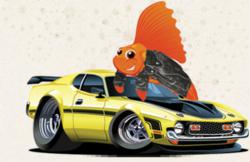 I can't believe that just yesterday I was reading about flying cars and today I'm seeing these futuristic-looking, Robocop-like phone glasses.
New York, NY (PRWEB) April 05, 2012
RoadFish.com men's lifestyle and finance magazine bore witness to Google's big announcement this morning, that a small team within Google[x] started what they are calling "Project Glass," and are introducing the concept to the public to prompt discussion. Google[x]'s advanced and extravagant new technology is a pair of virtual reality glasses-lenses worn over the eyes that feature all of the features of a smartphone.
The announcement post on Google Plus's webpage is dated 9:03am April 4th. The tagline reads, "We think technology should work for you—to be there when you need it and get out of your way when you don't." The Google[x] team members listed are Babak Parviz, Steve Lee, and Sebastian Thrun. The rest of the posting goes on to state that the Google[x] group who has built Project Glass is choosing to share the information, photos, and video on the product now in hopes of receiving feedback and input to help shape the model. The page also features a video displaying what the world might look like through Project Glass lenses, and just how the glasses could be used in every day life.
David Goldman of CNNMoney reports that the see-through lens is capable of displaying text messages, maps, reminders, directions, video chats, and picture-taking. The concept video which Google released demonstrates the usability of their futuristic product, portraying the user using simple voice commands to interact with the technology. This article reports that though Project Glass has been in development for close to two years, it is still nowhere near complete. The article states that researchers have not settled on whether the glasses will stand alone or require a smartphone to power them wirelessly. As for the design, it features a video camera accompanied by a tiny piece of glass over one eye and no lens on the other, which the article states was in intentional decision.
RoadFish.com's Senior staff writer is quoted as saying, "I can't believe that just yesterday I was reading about flying cars and today I'm seeing these futuristic-looking, Robocop-like phone glasses. Technology seems to be quickening every year. I am incredibly curious to see how the public reacts to and accepts this new device. I'll be the first to admit that I cannot wait to try out a pair."
Nick Bilton of the New York Times reports that Steve Lee, listed as one of the Google[x] members behind Project Glass, is a Google product manager and originally worked on Google's "Latitude" mapping software. Lee is the brains behind the glasses' software and location-finding features. The article goes on to detail Babak Parviz's contribution. As an associate professor at the University of Washington, Parviz's specialty is bionanotechnology (a combination of small technologies and biology.) His most recent development was a contact lens featuring embedded electronics, capable of displaying pixels to a human eye. The article claims that other technologies such as robots and space elevators are under construction in the Google[x] offices located near Mountain View, California.
RoadFish.com marveled at the pace that technology is expanding, and commended Google[x] on the development of such a comprehensive device. RoadFish.com's Senior staff writer stated, "I don't think that Google is caught up to Apple yet, but it seems that they are hot on Apple's heels, fighting for first place. It's not something that I expected to see for a couple of years yet."
The above-mentioned CNNMoney article reports that Google has not released a timeline for when its remarkable device will go on sale, although engineers are starting to use samples outside of the laboratory.
About RoadFish
RoadFish.com is an online men's lifestyle and finance magazine targeted toward men in their 30's and 40's that have already attained a moderate level of success in life, and are striving toward more. It goes over current events of interest to this group, such things as exciting adventures, making money, consumer interests, hot chicks, and personal taxes, as well as ways to make more and save more money. It is a publication owned by Purpose Inc.
###