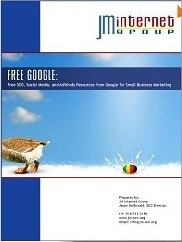 Google produces amazing resources but does not do a good job at consolidating them in an easy-to-find reference. That's what this book is all about.
New York, NY (PRWEB) February 08, 2013
The JM Internet Group, (web: jm-seo.org) a leader in small business SEO tips, has announced that review copies of their latest book on Google SEO, AdWords, and Social Media Marketing are now available to business owners and small business marketers at no charge for a limited time. The new marketing book is a practical guide to the cornucopia of resources that Google produces at no charge for small business marketers.
"Our review program on business marketing books has been phenomenal," explained Jason McDonald, Director of the JM Internet Group. "The latest book in our series focuses on no cost Google resources to help small businesses succeed at search engine optimization, AdWords, and/or social media marketing. Google produces amazing resources but does not do a good job at consolidating them in an easy-to-find reference. That's what this book is all about."
For more information go to:
http://www.jm-seo.org/books/free-google-review-copy.html
More on 'GOOGLE: Free SEO, Social Media, and AdWords Resources from Google for Small Business Marketing '
SEO by Google, about Google, for Google! No cost stuff from Google. Search Engine Optimization, or SEO, is the art and science of getting to the top of Google. Many business marketers do not know that Google provides a cornucopia of amazing free stuff for Small Businesses ranging from no cost websites to no cost email alerts to no cost learning resources. Most marketers realize the importance of getting their company or organization to the top of target Google searches, but few are aware of all the fun, informative, and no cost ways that Google makes this process easier than ever. This book pulls back the curtain on the Googleplex and identifies everything no cost from Google on SEO (Search Engine Optimization), SMM (Social Media Marketing), and PPC (Pay-per-click advertising, or AdWords).
Wherever the reader is in his or her no cost Internet marketing journey - beginner, practitioner, or even expert - Google will delight with a treasure trove of free blogs, tools, tricks and tips about getting something for nothing from the mighty search giant.
~ Publication Date: February, 2013
Content - all explained with TODO lists, grading charts, and lists of free Internet resources!
Introduction – Welcome to No Cost Google, your unofficial, unauthorized but incredibly helpful guide.
The Googleplex – the "big picture" of all the no cost stuff provided by Google for small businesses.
Advanced Google – how to use Google to find no cost stuff by and about Google.
Google SEO – no cost Google resources that will help you get to the top of Google via SEO (Search Engine Optimization).
Google+ Local – how to claim your no cost listing on Google+ (formerly Google Places) and leverage no cost resources to make it stand out.
Google+ – Google's own social network, i.e. Google's alternative to Facebook.
YouTube – YouTube, a Google property, explained as an amazing no cost opportunity in its own right.
AdWords – no cost tools and resources to optimize your paid Google advertising.
Google Analytics – Google's no cost software for understanding how people get to your website and what they do once they arrive.
Googling Googlers – Google's blog, YouTube, Twitter, Google+ as well as key Googlers who are worth paying attention to.
Bonus Appendix - Write a Review and get a complimentary Appendix of all free Google resources!
About JM Internet Group
The JM Internet Group provides SEO, Social Media Marketing, and Google AdWords training and courses for busy marketers and businesspeople. Online search engine optimization training helps explain keywords, page tags, link building strategies and other techniques needed to climb to the top of search engine rankings for Google, Yahoo, and Bing. The teaching methodology is hands on, with live examples and discussions, taught from the convenience of each student's computer.
Contact:
JM Internet Group, Media Relations
Web. http://www.jm-seo.org/
Email. jm.internetgroup (at) gmail (dot) com
Tel. +1-510-713-2150