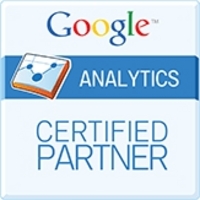 The new certification shows the need to designate certain agencies as certified partners with Google in an effort for potential clients to work with the most highly qualified interactive marketing agencies
Boca Raton, FL (PRWEB) May 20, 2010
MoreVisibility has announced that it has been awarded the new Google Certified Partner status for Google AdWords and Google Analytics.
"The new certification shows the need to designate certain agencies as certified partners with Google in an effort for potential clients to work with the most highly qualified interactive marketing agencies," said Andrew Wetzler, president of MoreVisibility. "After rigorous testing and practical application, our certification status is a testament to our adherence and dedication that we have to our clients. Our Google certified teams consist of a select few who are some of the best and the brightest in the industry to pass the test.
"Our certification designation is now in the public listing of Google's Certified Partners search directory, which is a listing of partners who have met the qualification criteria by taking training, passing exams and also meeting practical experience eligibility," said Wetzler. "Our clients and potential clients will now be assured that they are dealing with the level of knowledge and practical experience that is required to handle all of their Google interactive needs."
About MoreVisibility
Founded in 1999, MoreVisibility is one of the world's leading Search Engine Marketing, Optimization and Design firms, having helped hundreds of Fortune 1000 companies and small businesses increase qualified traffic to their Web sites. In 2005, 2006, 2007, 2008 and 2009 MoreVisibility was named to the Inc 500/Inc 5000 list of the nation's fastest growing privately owned firms. MoreVisibility is a Google AdWords Certified Partner, Google Analytics Certified Partner, Yahoo Ambassador and a member of the MSN Search Council.
MoreVisibility boasts high client retention through a team of 35 senior professionals who deliver superior performance and measurable results. Notable clients served include Direct Marketing Association (DMA), Children's Hospital of Philadelphia, The Metropolitan Museum of Art, Dairy Council of California, RSM McGladrey, The Mayo Clinic, Travel Nevada, Ritz Carlton Residential Suites and Clemson University. The company is based in Boca Raton, Fla, and can be found on the web at http://www.MoreVisibility.com.
Google and Google Analytics are trademarks of Google Inc.
###