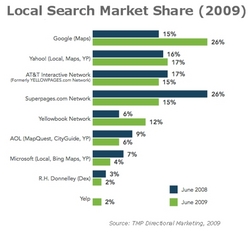 Boostability looks at search data to see how the majority of people are looking for a business like yours. We look at current trends and optimize your listing so it comes up higher on local and mobile searches
Salt Lake City, UT (Vocus) October 28, 2010
Google Maps optimization specialists at Boostability say local businesses often overlook Google Maps as a key online marketing tactic. Google Maps covers 30% of the first page of search results so being in the top seven listings means more people will find a business.
Map results are triggered when someone includes a city or state name in their search. Maps also automatically come up based on a searcher's IP address. When someone looks for local business on Google, the first 3 to 7 most relevant local businesses are displayed on a map with the company name, address and phone number. It also lists reviews, pictures, and video.
Instead of consulting the Yellow Pages to find a local business, people are searching on their mobile phone. To be found, businesses should aim to be in Google's coveted "7 box," or the top seven listings.
Here are 3 Tips for Google Maps Optimization
Tip 1: Target Google and Yahoo Maps
According to data from TMPDM/ComScore, Google and Yahoo Maps have the largest portion of the local search market. They have a larger share of searches than any other source. Maps can bring more customers than getting in directories such as Superpages or MapQuest.
Tip 2: Optimize Google Map Listings with Local Keywords
Done correctly, a Google Map listing is one of the easiest ways to get listed on top of search engine results. Once keywords are identified phrases relating to the business should be included in the listing. For example, a house painter in New York would want to be at the top of a search for "Manhattan house painter."
Tip 3: Develop Citations
Google places a heavy importance on the number and quality of citations. Ideally they mention a business name, address and phone number. For a listing to appear in Google's coveted "7 box," a business must be listed by as many sources as possible.
One of the services Boostability offers is to build citations to boost businesses in search results. "Boostability looks at search data to see how the majority of people are looking for a business like yours. We look at current trends and optimize your listing so it comes up higher on local and mobile searches," says Travis Thorpe co-founder and CEO of Boostability.
Having a complete, correctly categorized and consistent business listing on Google Maps matters. Once getting on the first page of results, Boostability's Google Maps optimization customers typically see a 300% increase in the number of people who see that business online.
Boostability is social
Facebook: http://www.facebook.com/boostability
Twitter: http://twitter.com/boostability
About Boostability
Boostability's (http://www.boostability.com) provides SEO technology and fulfillment services for agencies, media companies and phone book providers. Our business is integrating with partners that service small and local businesses who want to offer SEO to their clients. Using our proprietary technology and services, we are now able to partner with the largest media companies in the market to deliver cost-effective and scalable SEO solutions.
###