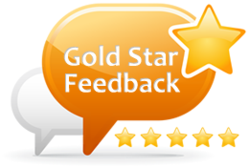 Even the most well-intentioned customers will forget to provide a review if they have to wait until they get home. - Dave Jabas, founder of Gold Star Review
Apple Valley, MN (PRWEB) January 19, 2012
Online marketing expert, Dave Jabas announces that he is making his online review service, Gold Star Feedback, available to more businesses starting today. Having been successfully deployed in business ranging from dental practices to HVAC companies, Gold Star Feedback has developed a track record of success in helping companies get positive Google reviews.
Garnering positive online reviews is now a required component of a successful online marketing strategy. Online buying is done in a series of split-second decisions. Snap judgments determine if a potential customer will investigate a business, product, or service further. When seconds count, Gold Star Feedback and positive reviews matter most.
The challenge faced by most small to medium-sized businesses is getting customers to provide reviews. Gold Star Feedback, founded by local search marketing expert Dave Jabas, streamlines this process making it easy for customers to provide positive online reviews.
Utilizing the Gold Star Feedback system, customers or patients can provide on the spot reviews for businesses through mobile devices and smart phones. "Even the most well-intentioned customers will forget to provide a review if they have to wait until they get home," commented Dave Jabas. "Gold Star Feedback shortens the time between the positive experience and the actual review. The idea is to solicit the review while the experience is still fresh."
Gold Star Feedback makes use of both QR code technology and text messaging to gather reviews. Customers can either scan a QR code or send a text message to the service to start the review process. Once begun, the Gold Star Feedback system walks a customer through the review process, providing example reviews and assistance.
Gold Star Feedback offers a free 7-day training course to help small businesses with local search engine optimization. In seven short lessons and about 10 minutes a day any business can optimize their online presence in Google.
About Gold Star Feedback:
Gold Star Feedback is an online review tool for businesses who need online reviews. Patients can text a review in seconds. Because this tool makes posting reviews fast and easy, practices enjoy better than average response rates from their customers. For more information and to see results from actual dentists using the service, visit http://www.GoldStarFeedback.com
###