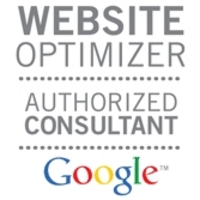 Competition on the Internet is growing stronger every day. To win, businesses have no choice but to optimize their site to ensure an ever-increasing conversion rate
Montreal, Qc (PRWEB) April 30, 2009
In 2008, 46.1% of Canadian Internet users made at least one online purchase and 76.8% researched and compared products online so it goes without saying that Web sites must be effective. "Competition on the Internet is growing stronger every day. To win, businesses have no choice but to optimize their site to ensure an ever-increasing conversion rate," says Simon Lamarche, hence the need to stand out from the crowd and test the most important pages and processes of a Web site.
Google Website Optimizer tool determines the best combination of structure, design and content based on visitor behavior. This free tool conducts A/B and multivariable tests on specific website pages in order to determine which page version offers the best conversion rate. By using such a tool, Adviso's experts are able to maximize the potential of visits by taking certain objectives into account, thus improving marketing efforts.
With this third accreditation, in conjunction with the Google Adwords Qualified Company and Google Analytics Authorized Consultant certifications, Adviso is the most "Google-certified" company in Eastern Canada and one of only 10 companies worldwide to hold all three certifications.
To find out more about the services offered by the Google Website Optimizer, please visit our Google Website Optimizer page .
About Google Website Optimizer Authorized Consultant:
This Google certification has only been awarded to four other Canadian firms and demonstrates Adviso's high level of expertise in website optimization. Google Website Optimizer is a free tool that allows you to easily perform A/B and multivariable tests. The tool determines which page version offers the best conversion rate and the results can be used to enhance your website.
About Google Analytics Authorized Consultant:
This certification has been awarded to six other Canadian firms and confirms Adviso's high level of expertise in Web performance measurement and the implementation of Google Analytics. Although Adviso uses a variety of tools to measure website performance, we recommend Google Analytics because it allows the user to focus on defining the appropriate performance, result analysis and trend indicators rather than setting up the tool.
About Google Adwords Qualified Company:
Adviso is officially recognized by Google for the management and optimization of Adwords PPC campaigns. This certification requires a thorough knowledge of and extensive experience in the use of Adwords. This Google service reaches out to more than 80% of Internet users in Quebec.
Adviso is part of a select few Canadian businesses to have obtained this accreditation. Selected companies must meet strict criteria: they must employ at least two Google-certified professionals and exceed a minimum investment threshold.
About Adviso Conseil Inc.:
Adviso is a firm of 25 Internet strategy and marketing experts. For over six years, the company has assisted its clients in ensuring the success of their Web properties through a rigorous strategic methodology that is founded, among other things, on an ongoing technological watch and research on the best Internet practices.
Adviso has thus worked alongside many prestigious organizations such as Hydro-Quebec, Canadian Heritage, Tata Communications, Auto123.com and Cascades on a number of projects for the improvement of their Internet strategy.
Adviso is proud to be one of 10 companies worldwide to have been awarded the "Google Analytics Authorized Consultant", "Google Website Optimizer Authorized Consultant" and "Google Adwords Qualified Company" accreditations.
###