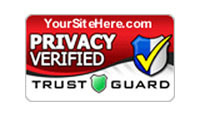 You must have and abide by an appropriate privacy policy that clearly discloses that third parties may be placing and reading cookies on your user's browser, or using web beacons to collect information, in the course of ads being served on your website. Your privacy policy should also include information about user options for cookie management.
Ogden, UT (PRWEB) May 22, 2008
To solve the problem, generate a free Google compliant Privacy Policy right now, easily tailored to work on any website. (Takes less than 15 minutes)
Announcing the Latest Google Compliance Requirement
Many webmasters hosting Google AdSense on their sites are forced to comply or face consequences once again as Google continues to grind out yet another of their stress inducing compliance tactics.
Warning: Do as Google Says, or Face De-activation of AdSense Revenue.
The most recent crackdown from Google is the requirement for a privacy policy on every site hosting Google AdSense.
Google has gained a reputation for forcing webmasters to scramble every time they implement another one of their "Quality Compliance Rules". This latest rule is aimed at AdSense publishers not hosting a proper Privacy Policy.
This particular rule isn't quite as stressful as some previous Google Slaps have been, but it still has the power to get an AdSense account shut off by not meeting Google's requirements.
An Easy 15 Minute Solution
There are a number of solutions to writing a Privacy Policy which range from free (for example: bonus from a software vendor like Trust Guard) to hundreds of dollars if an attorney is involved. In this case, requirements are easily met for most sites. (See the 15 minute solution through the link at the end of this notice)
Quote from Google's Ad Sense Terms and Conditions
"You must have and abide by an appropriate privacy policy that clearly discloses that third parties may be placing and reading cookies on your user's browser, or using web beacons to collect information, in the course of ads being served on your website. Your privacy policy should also include information about user options for cookie management."
All AdSense publishers were recently exposed to a mandatory notice for Privacy Policy requirements before being allowed access to their account. Once that notice was agreed to, there must be a compliant Privacy Policy posted on the site(s) in question. If these terms are not met, the site(s) in question are now outlawed in Google's eyes and will either be warned or have their AdSense account and revenue shut down. (Until compliance is proven.) The drawback here is there are no guarantees of re-activation... So why risk it?
The Quick and Dirty (FREE) 15 Minute Solution from Trust Guard
All website owners and AdSense publishers are invited to visit the page below to create a quick and easy, Google compliant, FREE Privacy Policy that can be configured to fit any website including those hosting AdSense.
This auto generated Privacy Policy takes less than 15 minutes. Not only is it a smart move to cover your legal bases, but is now mandatory for all AdSense publishers.
For any AdSense publisher or website owner who wants access to a quick way to generate a FREE legal privacy policy in the next 60 seconds, visit the link below.
Free 15 minute solution http://www.Free-Privacy-Policy.com
Helpful Tip:
Consider placing a privacy seal in a prominent location, clearly visible to visitors. Independent studies have shown that trust seals increase visitor trust and time spent on the site, as well as improve conversion rates.
###