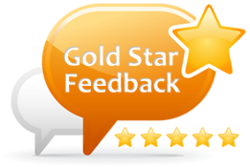 We distilled the optimization process to its most critical elements. The goal, to help small business properly optimize their Google Place page.
Apple Valley, MN (PRWEB) March 14, 2012
Local search marketing expert and founder of Goldstar Feedback, Dave Jabas, has created a free 7-day online tutorial designed to help business boost their Google visibility. The course is delivered by email over a 14-day period with quick tasks that can be performed in about fifteen minutes.
Google represents a huge opportunity for small local businesses. Unfortunately, since the process of setting up and optimizing an online presence appears to involve time and expert resources unavailable to most small businesses, they simply neglect this important crucial part of their online marketing mix.
"On its face, the task of setting everything up is simply overwhelming. We know because we were there once ourselves," commented Dave Jabas. "It was important for us to develop a free system that could be completed with minimal time and expertise. Gold Star Feedback Training is that system."
The free 7-day online tutorial addresses the major roadblocks of time and knowledge in helping small businesses market online. The goal of the program is to break the essential tasks down into seven bite-sized chunks that can easily be accomplished in a short period of time by even the most harried business owners.

Day 1 – Get up and running with your Google Place page
Day 2 -- The proper use of images and photographs
Day 3 – The art of the deal. Setting up coupons or special deals
Day 4 – Tags, tags, tags. Getting title and description tags right
Day 5 – The footer is important, too
Day 7 – Online review strategy. You need reviews to be successful
After transforming his locksmith business using these techniques, Dave Jabas decided to help others do the same. He is the founder of FindMyBusinessNow, a local search marketing consultancy, and Gold Star Feedback, a company that streamlines the process of collecting valid Google reviews for businesses.
About Gold Star Feedback:
Gold Star Feedback is an online review tool for businesses needing online reviews. Customers can text a review in seconds. Because this tool makes posting reviews fast and easy, companies enjoy better than average response rates from their customers. For more information and to see results from dentists using the service, visit http://www.GoldStarFeedback.com