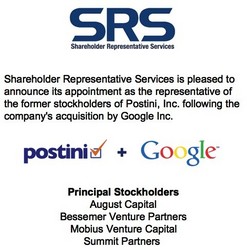 In the past, one of the Company's officers, directors or principal stockholders usually had to represent the stockholders following the closing of an M&A transaction
Denver, CO (PRWEB) December 14, 2007
Shareholder Representative Services, LLC (SRS) today announced that it has been appointed as the representative of the former stockholders of Postini, Inc. following the company's recent acquisition by Google Inc. Postini's selling stockholders include August Capital, Bessemer Venture Partners, Mobius Venture Capital and Summit Partners.
"In the past, one of the Company's officers, directors or principal stockholders usually had to represent the stockholders following the closing of an M&A transaction," said Cynthia Garabedian McAdam, Vice President and General Counsel of Postini. "However, they generally did so reluctantly. With the increasing complexity of issues and diversity of interest among stockholders, our board preferred to hire a professional and independent resource to represent the interests of all stockholders during the escrow period. SRS was able to effortlessly integrate into the merger negotiation process and will provide our stockholders with a heightened level of service."
SRS serves as a professional representative of the stockholders following the closing of merger or acquisition transactions in connection with managing claims by buyers for damages related to breaches of representations or warranties, communicating with the escrow agent and other parties to the transaction, and any other matters that may arise following closing.
"Postini is a success story for its founders, employees and investors," said Paul Koenig, Managing Director of SRS. "We are honored to represent them during the post-close period to ensure maximum return on their success."
For more information about Shareholder Representative Services, visit our website at http://www.shareholderrep.com
About Shareholder Representative Services
Headquartered in Denver and with offices in Silicon Valley, SRS provides professional shareholder representation services following the closing of an M&A transaction. As shareholder representative, SRS manages the entire post-closing process including the management of escrows, earn-out negotiations, the handling of claims, disputes and litigation, communications with the acquirer, and, ultimately, distribution of escrow funds. By engaging SRS, investors are able to focus on their core competencies -- identifying the next deal and managing the rest of their portfolio -- rather than being distracted by the administrative burdens and legal and financial risks that may inure to the shareholder representative. The professionals at SRS have the expertise to simplify the post-closing process for the investors and to maximize return of sale proceeds to shareholders.
###