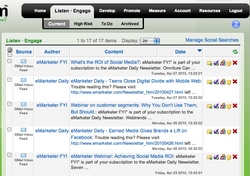 Software vendors like JitterJam are helping us build a rich ecosystem of integrated applications that work seamlessly with our platform
Bedford, NH (PRWEB) April 28, 2010
JitterJam™ is pleased to announce it has added its social marketing platform to the Google Apps Marketplace™, Google's online storefront for Google Apps™ products and services. JitterJam is an integrated, multi-channel social marketing platform focused on developing and deepening customer relationships from light touch social connections into qualified prospects all the way into committed customers and lifelong advocates. The platform combines social media, e-mail and mobile marketing tools on top of an intelligent contact database.
"JitterJam is committed to easy to implement, easy to use, easy to succeed, web-based solutions that businesses and marketing agencies can utilize anytime, anywhere. So, integrating with Google Apps was a logical choice for us," says Ric Pratte, President and CEO. "We've made it extremely easy for Google Apps customers to get a powerful, web-based multi-channel marketing application that works seamlessly with their Google messaging and collaboration applications."
JitterJam is a comprehensive integrated social marketing platform for multi-channel engagement and marketing. Its rich feature set includes social monitoring and engagement through Twitter, Facebook and FriendFeed; e-mail marketing integration with Constant Contact and MailChimp; mobile marketing through a native text messaging campaign tool; tracking of campaigns on a per-message basis; multi-channel message creation and scheduling; targeted campaign creation and management; a multi-channel opt-in system; and much more.
"We are very excited to have JitterJam in the Google Apps Marketplace," says Scott McMullan, Google Apps Partner Lead for Google Enterprise. "Software vendors like JitterJam are helping us build a rich ecosystem of integrated applications that work seamlessly with our platform, allowing IT administrators to leverage the benefits of cloud computing and extend Google Apps to meet more of their business needs."
The product's integration with Google Apps allows users to sign on to JitterJam with a Google account or Google Apps e-mail address; to connect to Google Calendar to record all scheduled and delivered JitterJam outbound communications and promotions; and to flow e-mails received through a Gmail inbox with JitterJam's powerful database and communications tools. JitterJam is part of the Sales & Marketing solutions in the Google Apps Marketplace.
The Google Apps Marketplace makes it easy for more than 2 million Google Apps customers to discover, purchase and deploy integrated business applications and related professional services. By integrating with user account and application data stored in Google Apps, these cloud applications provide a simpler user experience, increase business efficiency, and reduce administrative overhead. To learn more, visit google.com/appsmarketplace.
About JitterJam - Founded in 2008, JitterJam empowers consumer-facing businesses to leverage social marketing and have it perform in concert with their other marketing initiatives. JitterJam is a comprehensive platform that integrates social media, e-mail, and mobile engagement with an intelligent contact database and the tools needed to turn social interaction into new opportunities for revenue growth. JitterJam is headquartered in Bedford, NH. For more information on JitterJam and to sign-up for a free trial, visit http://www.jitterjam.com.
JitterJam, JitterGram and Turning Conversations Into Customers are registered trademarks or trademarks of JitterJam.
Google, Google Apps Marketplace, Google Apps, Gmail, Google Talk, Google Calendar, Google Docs, Google Sites, and Google Video are trademarks of Google Inc.
# # #