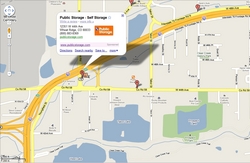 Through our collaboration with Location3 Media, their clients can have a consistent brand presence on the map and promote their various storefront locations
Denver, CO (PRWEB) September 7, 2010
Digital marketing agency Location3 Media is an early adapter of Google Map's sponsored map icons beta program that was released yesterday. As part of their effort to provide useful and relevant information, Google added a new feature that allows companies with multiple locations and well-known brands to include their logos directly on Google Maps, replacing the default grey icons that appear when users zoom in to an area. These colorful and recognizable logos will help users immediately pick out the businesses and brands they are looking for when browsing Google Maps.
For the past three years, Location3 Media's local search division, Local Search Traffic, has leveraged Google Maps and Google Places offerings on behalf of our clients. Local Search Traffic clientele is made up of numerous franchise and retail based companies with thousands of locations across the country. The local search marketing company works with these franchise clients and Google to test new beta features and share feedback so that further improvements and refinements can be made.
"Our close relationship with Google benefits our clients, and we're always pleased to be able to extend these exclusive beta opportunities on to them," says Erik Whaley, director of Local Search Traffic. "We're excited about this opportunity to put recognizable client logos directly on the map, and believe this will have a major effect on how searchers find local businesses."
"Navigating Google Maps will now be more like navigating the real world," said Matthew Leske, Google Product Manager. "Through our collaboration with Location3 Media, their clients can have a consistent brand presence on the map and promote their various storefront locations."
Currently, sponsored map icons are being offered as a limited beta to well-known U.S. brands with multiple locations. Public Storage, long-time client to Location3, was one of the beta participants. The logos are appearing on Google Maps on desktops at this time, and will be visible on mobile phones in the coming weeks. Participation in this beta program does not affect the visibility of business locations on Google Maps.
Google announced the sponsored map icons on Google Maps beta on their Google Lat Long Blog earlier today. Brandweek covered the new feature as well.
# # #