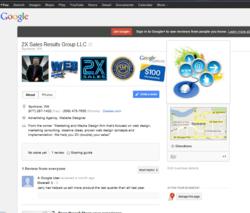 It is crucial for businesses to check their new Google+ Local page
(PRWEB) June 30, 2012
Spokane, WA: It has been 30 days since Google discontinued Google Places and forced all businesses to switch to Google+ Local. According to Google's Marissa Mayer, roughly 80 million Google Place pages worldwide were automatically converted into 80 million Google+ Local pages on May 30th. 2X Sales Results Group has found responses from business owners ranging from angry and frustrated to sheer excitement for the new opportunities from Google Plus. However, for many business owners they are still unaware of the change. Google made this change with no notice and has yet to send any notice to business owners.
It is crucial for businesses to check their new Google+ Local page. Contact a qualified professional if you need help. Many web designers are up to date on the changes and can assist for a small fee. Unfortunately, many small business owners had a friend, relative, or an employee (that may not still work for them) set up their Google Places account.
Common problems include changing pictures and inaccurate business information. Problems also include Google merging inaccurate information from multiple sources, like Salerno Duane Ford with a website for Chrysler, Jeep, and Dodge dealership in New Jersey as seen here on a Google help page.
Google+ is wonderful if used properly. The page is set up very much like the original Google Maps screen, but using the Google Plus interface. Google has also said that business will appear depending on recommendations from your own circles. In other words, if someone in one of your Google Plus Circles recommends a specific web designer in Spokane, you are likely to see that same business high up in results when you go looking for a web designer in Spokane.
For more help visit http://2xsales.com/google-local