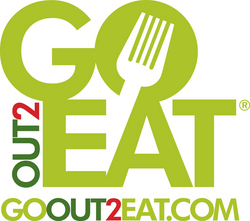 The savings and convenience of GoOut2Eat is tremendous. I not only use it to choose which restaurant I want to eat at, but I've even convinced myself to go out to eat because of the savings.
Washington, DC (PRWEB) February 26, 2010
The "Green" online restaurant savings program, GoOut2Eat.com, is a hit with local restaurants and consumers; elevating environmental awareness among local restaurants while providing cost-saving promotions to area customers to help them save when dining out.
GoOut2eat.com is a cooperative Green Marketing Program that provides TEXT savings promotions and coupons that are honored by any of GoOut2Eat's participating feature restaurants.
GoOut2Eat.com is a free consumer site providing coupons to help customers save money. The unique, user-friendly site allows customers to search by cuisine, venue or local region (DC, MD or VA), then select a participating restaurant to view current specials, savings and promotions. Customers have the option to print coupons, or use the preferred text method to send the coupons directly to their cell phone.
GoOut2Eat.com features a brief write-up and quick-view icons for each restaurant that highlight the restaurants' offerings (i.e. outdoor seating, take-out available, kids menu, non-smoking, TV, Wi-Fi, etc.). Each participating restaurant provides three online coupons/offers that consumers can easily print, email, or text to their cell phone.
Restaurants that participate in the GoOut2eat.com program are mindful of the environment and participate in the Green Marketing Movement, while providing great promotions to come visit their restaurants. Remember, always GoOut2Eat.com before you go out to eat.
About GoOut2Eat.com
Founded in 2009, GoOut2Eat.com seeks to bring green marketing options to local area restaurants. The restaurant industry spends hundreds of millions of dollars annually advertising in magazines, newspapers, direct mail, and more. GoOut2eat.com has developed a marketing platform that is both consumer and environmentally friendly. For more information visit GoOut2Eat.com.
###