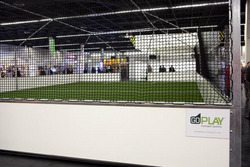 Genemuiden, the Netherlands (PRWEB) December 6, 2009
Confronted by the impact and knowing the importance of Development through Football, GreenFields artificial grass supplier created an innovative concept for leisure and sport facilities in order to contribute to an environment of positive social change. Sport is about participation. It brings individuals and communities together. Through sport skills such as discipline, confidence and leadership are learned and it teaches principles such as tolerance, cooperation and respect. Sport teaches the value of effort, the feeling of victory as well as defeat.
GoPlay multipurpose courts is a flexible concept and can be designed for standard small-sided ball sports or a combination of different kind of sports. The building blocks allow for adaptation of the facility based upon individual desires. GoPlay can be supplied in standard dimensions - 20x13m, 30x15m and 40x20m - or tailored into an individual design according to the available area and the local surroundings. Each facility can be equipped with safety nets on the goal sides, all around or even with a roof net construction. The equipment can be adapted to each kind of sports or to individual wishes. Football may be the main purpose, but GoPlay as a concept can also be fully multi functional -- a combination of football, basketball, handball and volleyball and various other small-sided sports.
Aart-Jan Warnaar from GoPlay says: "GoPlay is a flexible concept because of its modularity. That allows for a mini court use which practically means that for example in winter a facility can be changed into an ice skate rink. But that is just one example, it doesn't end here. GoPlay is a unique concept that can be adapted to a variety of sports. So even if somebody wants a combination of sports in the future, the concept can be changed."
Sports and play are motivated by pleasure. Pleasure depends on the environment and the surroundings available. GoPlay is a concept where especially kids and children will feel safe and enjoy the game through participation and being part of a community. With GoPLAY GreenFields enables NGO's, councils, communities and policy makers to use the tremendous potential that sport has. Schools can also benefit from these facilities whereas they can double as outdoor classrooms and meeting venues.
###