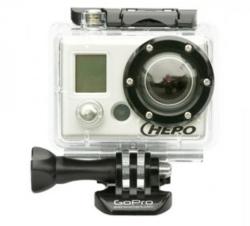 Only Once A Year! Save up to 50% on GoPro HD Hero Cameras and Accessories.
(PRWEB) November 24, 2011
PointOfViewCameras.com, the largest independent online retailer of action cameras is having a massive blowout on all GoPro HD Hero hands free cameras. Up to 50% discounts on all GoPro Hero cameras and accessories will start at Thursday midnight for this Black Friday sale.
The GoPro Hero hands free cameras have been used by pros and amateurs alike to capture thrilling sports videos for broadcast and online distribution. The GoPro HD Hero cameras bring high end, high definition action video recording to everyone with a consumer friendly price and endless mounting options, making it the most popular helmet camera available.
GoPro HD Heros come available in multiple customized bundles geared toward specific sports. The HD Helmet Hero bundle is for biking, snowboarding and other helmet use sports. The HD Motorsports Hero comes with a suction mount and quick release for vehicle mounting while the HD Surf Hero is bundled with waterproof quick release housings and adhesive mount base designed for all kinds of watersport boards.
No matter which one you choose all Gopro HD Hero cameras come with the following advanced features:
-record at multiple HD 1080p, 960p or 720p at 30 or 60fps
-5mp digital photos
-super wide angle 170 degree angle lens
-industry leading 1.4 lux low light performance
-multi time lapse still image capture
-3 photo burst mode
-high quality audio recording built in, filters out wind and background noise
-rugged, go anywhere case
-waterproof up to 180 feet
-generous assortment of mounts and cables included, ready to use right out of box
-compatible with a huge assortment of mounts, straps and cases
For the budget minded who can live with lower resolution and just a basic mount, there is the Gopro HD Hero Naked which shoots at up to 960p.
During the Black Friday sale, diiscounts on all the popular accessories such as:
-3D Hero system for making 3D action videos
-Gopro chest mount
-battery BacPac for double the recording time
-suction cup mount
-GoPro roll bar tube clamp mounts
Now is the perfect moment to pick up extra mounts and accessories on sale.
The large Black Friday discounts are only offered once a year, the only time pointofviewcameras.com offers up to 50% discounts, often below cost on many items. Take advantage of this offer while you can.
Keep checking pointofviewcameras.com/gopro for the Gopro HD Hero2 arriving later this year. Canadian customers can visit pointofviewcameras.ca. UK customers can go to pointofviewcameras.co.uk.
###