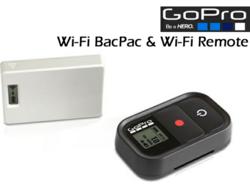 Get wireless control of up to 50 GoPro HD Hero2 cameras. New WiFi BacPac allows wireless preview, playback and control on smart phones and computers via GoPro app.
Blaine, WA (PRWEB) December 23, 2011
Pointofviewcameras.ca will be one of the first stores to offer the latest wifi GoPro accessories when they come out.
The optional Gopro Wi-Fi BacPac and Gopro Wi-Fi Remote add Wi-Fi functionality to the camera. The Wi-Fi BacPac lets users control their HD Hero and HD Hero2 cameras with their smartphone, tablet, or computer, and it can stream video to local networked devices or the Web with an HD Hero2. The Wi-Fi BacPac is rugged, but shock and waterproof features have not been announced.
Pointofviewcameras.ca will be one of the first stores to carry GoPro's much anticipated WiFi BacPac for the Gopro HD Hero2 line of helmet cameras.
The Wi-Fi BacPac accessory mounts to the back of the HD HERO2 camera to enable long range video remote control via the Wi-Fi Remote or a smartphone, tablet or laptop running a free GoPro App. Waterproof and ruggedly built, the GoPro Wi-Fi Remote enables complete control of up to 50 HD HERO2 cameras simultaneously. The new remote makes multi camera array setups easy to control. With mutliple camera arrays a director can create extraordinary frozen motion sweeping shots as in the Matrix movies for a fraction of the cost.
When GoPro HD Hero2's are paired with the Wi-Fi BacPac, the HD HERO2 also supports live video streaming wherever Wi-Fi or a mobile hotspot is present. Record one video stream to your HD HERO2′s SD card while sending a second video stream via Wi-Fi to a smart-device, computer or the Web.
The original HD HERO is compatible with the Wi-Fi BacPac and Wi-Fi Remote with support for remote control functions only. Video streaming is not available on the original HD HERO camera.
Pointofviewcameras.com is the largest independent online retailer of GoPro cameras and its sister site, Pointofviewcameras.ca is the largest Gopro Canada store carrying the latest Gopro HD Hero2 Canada.
###