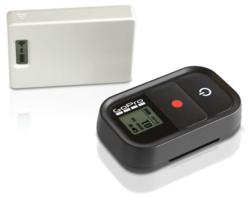 GoPro Wifi BacPac Winner Of CES 2012 Accessory Award Will Be Available In March.
Blaine, WA (PRWEB) January 30, 2012
Coming to Pointofviewcameras.com are a group of new action camera products from major manufacturers, GoPro, Contour and Liquid Image.
GOPRO
GoPro's Wifi BacPac, the winner of the Popular Mechanics 2012 CES Editor's Choice Award, will be available for sale at Pointofviewcameras.com when it is released. The wifi BacPac attaches to the back of GoPro HD Hero 2 cameras enabling your iPhone, iPad or iPod Touch to live stream through it's built in wifi network. With the GoPro App users can see the live video output of the camera as well as control camera settings. Additionally, the wireless accessory can control up to 50 separate cameras with the Wifi Remote kit for extraordinarily sharp circular sweeping shots. The GoPro BacPac will be available from Pointofviewcameras.com in March for around $100 in their Gopro HD Hero Canada store first.
CONTOUR
Contour announced upgrades to their Contour Connect software at CES 2012. The software for the Contour+ or Contour GPS (with Connect View) now has extended remote control range of up to 10 meters. The new software is for Android smartphones, with this update, users can start and stop recording remotely, adjust camera settings, align and preview shots and live stream via HDMI, all with an Android phone. Expect the software to arrive in April in the Contour Canada store.
LIQUID IMAGE
Liquid Image is best known for their goggle mounted point of view cameras for diving and extreme sports. Now, they have removed the goggles and introduced the Liquid Image Ego , a small water resistant HD video camera with built in wifi. Liquid Image is focusing this camera around a number of different mounts for sports gear like surfboards, roll bars, handlebars, and windshields, measuring less than 3 inches in all dimensions, with a 2-inch LCD and two control buttons. It also has built-in Wi-Fi, so you can stream real-time to tablets, smartphones, or computers (provided the proper apps, under development are installed).
The Ego can shoot in up to 1080p at 30 fps and 720p 60 fps with up to 32gb of microSD. The Ego should be available by June 2012 for $149.
Pointofviewcameras.com is the leading independent retailer of action cameras. With a Gopro Canada store and UK action camera store, the company ships worldwide.
###