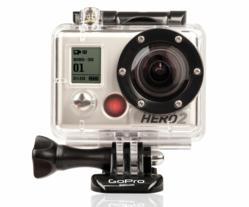 HD HERO2 Has Twice The Performance Of Previous HERO Cameras.
Vancouver, BC (PRWEB) October 28, 2011
GoPro, the leader in hands free sports cameras has announced their latest flagship camera, the GoPro HD HERO2. Totally reengineered on the inside with twice the performance of previous Heros, the new HD Hero2's exterior remains the same unassuming beige box. The HERO2 enables newcomers and pros to record in multiple resolutions including ultra sharp 1080p HD and 11mp photos.
The HD HERO2 will soon be available from Pointofviewcameras.ca. It's major enhancements includes a new processor that delivers twice the processing power to handle the new high performance 11 megapixel sensor with more than twice the resolution and improved low light performance. Matching the new sensor is a totally redesigned wide-angle lens that is twice as sharp to take full advantage of the HD HERO2's increased image processing.
Welcomed advances makes the HD HERO2 even more appealing as a pro video camera at a consumer price. The new language based user interface make it easy to understand camera settings. The addition of HDMI out allows video to play directly on a high resolution display straight from the HD HERO2. A 3.5mm microphone jack enables use of any third party mic for professional audio recording.
Coming in winter 2011 is GoPro's new Wi-Fi BacPac™ and Wi-Fi Remote products. The Wi-Fi BacPac will enable video remote control via smartphones, tablets and computers as well as enabling live GoPro video broadcast from anywhere there is Wi-Fi or a mobile hotspot. The Wi-Fi Remote allows control of up to 50 cameras wirelessly, making it very easy to control multi camera arrays for your own "bullet time" videos.
Here Is The List of HD HERO2 Feature Enhancements:

Professional 11MP Sensor
2x Faster Image Processor
2X Sharper Glass Lens
Professional Low Light Performance
Full 170º, Medium 127º, Narrow 90º FOV in 1080p and 720p Video
120 fps WVGA, 60 fps 720p, 48 fps 960p, 30 fps 1080p Video
Full 170º and Medium 127º FOV Photos
10 11MP Photos Per Second Burst
1 11MP Photo Every 0.5 Sec Timelapse Mode
3.5mm External Stereo Microphone Input
Simple Language-based User Interface
Compatible with Wi-Fi BacPac™ and Wi-Fi Remote™
Long Range Remote Control of up to 50 GoPro Cameras per Wifi Remote
Wi-Fi Video/Photo Preview, Playback and Control via GoPro App
Live Streaming Video and Photos to the Web
The GoPro HD HERO2 comes in 3 main specialized packages to meet practically all types of users. All packages should sell for $300 or less.
GoPro HD HERO2 Outdoors Edition
GoPro HD HERO2 Motorsports Edition
GoPro HD HERO2 Surf Edition
# # #