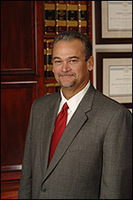 Palm Beach Garden, Florida (PRWEB) March 3, 2010
The law firm of Gordon & Doner usually represents the victims of Florida personal injuries and accidents, but this week the firm successfully fought for itself against Internet pirates who hijacked its Web site with the apparent intent of bilking unwitting clients.
Gordon & Doner uncovered the scheme after finding a Web site ostensibly based in England that mirrored the Gordon & Doner Web site ForTheInjured.com but used the name "Maslin & Associates." The counterfeit site included photos of Gordon & Doner's attorneys, but changed the lawyers' names. The site also claimed numerous legal victories actually won by Gordon & Doner.
Gordon & Doner went to the Web host of the Maslin site, GoDaddy.com, seeking the names of the site's owners, but GoDaddy said its legal agreements with customers barred such disclosure without a subpoena.
In January, Gordon & Doner filed a copyright infringement suit naming GoDaddy and the unknown parties as John Does.
The federal complaint, filed Jan. 6 in U.S. District Court for the Southern District of Florida, was captioned Gordon & Doner, P.A. v. Go Daddy Group, Inc. and John Does 1-3 (Case 9:10-cv-80015-XXXX).
The subsequent discovery process revealed that the owner of the domain name for the fictional law firm was a company known as Gentleiyke LLC.
The credit card used to purchase the domain name was tracked to Nigeria, where the owner of the credit card claimed it had been improperly used. Gentleiyke LLC is also the owner of domain names for numerous other fictional entities, all of which have been shut down.
Through court-allowed discovery, it was found that while GoDaddy facilities were used, GoDaddy was not directly involved.
"It appears that the Maslin law firm Web site was created to add legitimacy to an international scheme targeting Internet users, and possibly for use in enticing the Internet users to entrust monies to a counterfeit law firm," said Michael Slavin, managing partner of McHale & Slavin who represented Gordon & Doner in the copyright infringement lawsuit.
Adam Doner, a partner in Gordon & Doner, said his firm would drop the lawsuit since its legal action had apparently disabled the threat.
"As the Web site was uncovered before it was fully developed, it is our hope that no one in the general public was harmed," he said. "As all of the Web sites under the Gentleiyke name have been disabled, we do not find it feasible to continue with the lawsuit."
About Gordon & Doner
The Florida law firm of Gordon & Doner, with offices in Palm Beach Gardens, Stuart, Delray Beach and Pembroke Pines, has been serving south Florida communities for more than 16 years. The firm's practice areas include Personal Injury, Wrongful Death, Medical Malpractice, Nursing Home Abuse, Defective Products, Business Litigation and Workers' Compensation. For more information, contact Christina D'Elosua at 561.799.5070 x133 or cdelosua(at)ForTheInjured(dot)com.
###