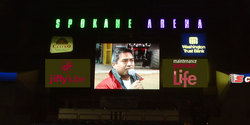 Monster Jam tied in great with our Maintenance Patners for Life campaign! Each night we asked the crowd to donate any spare change they may have in their pockets
Spokane, WA (PRWEB) February 26, 2009
Jiffy Lube, America's largest fast-lube company, and Go Red For Women are working together to fight heart disease through the Jiffy Lube Maintenance Partners for Life campaign. The goal of year two is to raise more than $1.5 million for the Go Red For Women movement, which celebrates the energy, passion and power women have to band together and eradicate heart disease.
The Jiffy Lube® Maintenance Partners for Life Campaign helps raise awareness for heart disease prevention by supporting the American Heart Association's® Go Red For Women movement. Customers who donate $3 receive a Maintenance Partners for Life book with $100 in vehicle preventive-maintenance savings.
During the past weekend, several Spokane Jiffy Lube team members attended the company sponsored Monster Jam at the Spokane Arena. Company District Manager John Shutt helped kick off the Monster Jam with a crowd rallying pitch for the Maintenance Patners for Life campagin. "Monster Jam tied in great with our Maintenance Patners for Life campaign! Each night we asked the crowd to donate any spare change they may have in their pockets" explained John. "On Sunday, an employee of one of the race teams pulled me aside and thanked me for participating in the campagin. He benefited from the American Heart Association when he himself had a pacemaker implanted. It is great when you can see your efforts as they touch every day people!"
When all was said and done, the Monster Jam in Spokane proved to be another chapter of success in the company's ongoing efforts to raise money for the Go Red for Women movement! Jiffy Lube employees John Paul Kness, Jessica Sanders, Scott Olsher, Steve Campbell, Charles Conway, Laurissa Hamilton and Shawna Rinas joined John Shutt and the local Franchise owners Sean Porcher and Rudd McClory in volunteering their time to promote the campaign!
"Heart disease is a silent killer that is largely preventable - most people don't realize how prevalent it is or what they can do to lower their risks," said Sean Porcher, Jiffy Lube Franchisee. "Jiffy Lube is doing its part to raise awareness of this disease in our community and is proud to raise funds benefitting our local American Heart Association chapter."
"Together with John Shutt, Rudd McClory and all our local Jiffy Lube team members in Spokane, the Tri-Cities, Missoula, Helena, Bozeman and the Central Coast of California, we thank our customers and our communities for banding together to support the Maintenance Partner's for Life campaign!" said Sean. Jiffy Lube employees in these local markets have also personally donated over $20,000 towards the effort!
For more information about the national Jiffy Lube Maintenance Partners for Life campaign, visit http://www.myjiffylube.com.
About Go Red For Women
Since 2004, Go Red For Women has captured the energy, passion and intelligence of women to work collectively to wipe out heart disease -- the No. 1killer of women. We want millions of women across America to take heart disease personally. Go Red For Women engages women and the men who love them to embrace the cause. Healthcare providers, celebrities and politicians also elevate the cause and spread the word about women and heart disease. For more information about Go Red For Women, please call 1-888-MY-HEART (1-888-694-3278) or visit GoRedForWomen.org. Go Red For Women is nationally sponsored by Macy's and Merck & Co., Inc.
About Sean Porcher's Franchise Group
Sean Porcher's franchise group owns and operates 31 Jiffy Lube Service Centers. WIth service centers in San Luis Obispo and Santa Barbara counties on the Central Coast of California, Spokane and the Tri-Cities are of Washington and the entire State of Montana, this franchise group consists of three different business entities and ownership groups.
About Jiffy Lube®
Jiffy Lube International Inc. ("Jiffy Lube"), with more than 2,100 franchised and company-owned service centers in North America, serves approximately 27.5 million customers each year. Jiffy Lube pioneered the fast oil change industry in 1979 by establishing the first drive-through service bay, providing customers with fast, professional service for their vehicles. Headquartered in Houston, Jiffy Lube is a wholly owned, indirect subsidiary of Shell Oil Company. Visit http://www.JiffyLube.com to learn more about Jiffy Lube and vehicle care.
Note: Jiffy Lube International and Shell Oil Company are not responsible for statements or information communicated by independent franchisees.
###