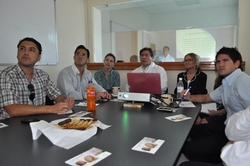 "This partnership brings all necessary best practice elements combining government support, a highly skilled medical team, with unmatched industry service standards" says Gorgeous Getaways, Global Director, MBA - Rachel Rowling
Edmonton, Alberta (PRWEB) March 17, 2011
Gorgeous Getaways Inc. the global leader in cosmetic surgery holidays today announced it has entered into a partnership with Costamed Hospital and Dental (CMC) and the elected Mayor of Cozumel, Aurelio Joaquin Gonzalez. The partnership will promote Cozumel as a Center of Excellence for Canadian and American patients, seeking affordable high quality medical treatment in a safe and relaxing environment. This partnership will enable Gorgeous Getaways Inc. to now offer destinations that are closer for North American clients who have previously been travelling to Malaysia and Thailand for treatment.
Gorgeous Getaways Inc. is a pioneer in the medical tourism industry averaging a minimum of 50-60 clients per month with plans to double this monthly number by the end of the year. They are setting the bar very high by providing complete end-to-end client support from the initial enquiry stage to ongoing national "get-togethers" so new and existing clients can share stories. "It takes six (6) months of due diligence to bring new partners on board so we are very excited to work with CMC and the local Cozumel government," said Rachel Rowling, Global Director, Gorgeous Getaways Inc. "Teaming up will bring all necessary partner elements combining government support, a highly skilled medical team, with our unmatched industry service standards. This will allow us to offer a complete range of affordable cosmetic and weight loss surgery, complete dental services and restoration, and non-surgical treatments to North American clients."
"Gorgeous Getaways Inc. is a great partner that shares the same vision and values. This collaboration exemplifies their dedication to patient safety and postpartum care" said Dr. Ricardo Segovia, Executive and co-owner, Costamed Hospital and Dental.
About Gorgeous Getaways Inc.
Founded in 2004, Gorgeous Getaways is one of the original pioneers of medical tourism and regarded as the worldwide leader of quality, affordable cosmetic surgery holidays. Today, the company is incorporated in Canada, United States, Australia, and Malaysia with global sales in Canada, United States, United Kingdom, New Zealand and Australia, and dedicated full-time client service managers based in the destination countries of Malaysia, Thailand, Costa Rica and Mexico.
We have researched and selected the highest quality, internationally-recognized surgeons and hospitals that consistently deliver outstanding results. Our dedicated team on the ground provide complete post-surgery care and exceptional, personalized service for optimal recovery.
Established relationships with providers provide Gorgeous Getaways with an edge - to offer the most competitive, full-service packages in exotic locations. With over 20,000 subscribers, numerous testimonials and case-studies, Gorgeous Getaways is world-renowned for quality and superior customer care with global clients, surgeons, hospitals, tourism bodies, industry affiliates and local government.
For more information about Gorgeous Getaways Inc., visit its website at http://www.gorgeousgetaways.com.
About Costmed (CMC)
Costamed originated in 1998 with the purpose of becoming a leading international hospital in the Caribbean island of Cozumel, Mexico. Today, the privileged Costamed Hospital Group presents patients from around the world with professional medical services, advanced emergency care, and complete medical & surgical treatments focused on the entire satisfaction of our clients. Surrounded by the warm and welcoming environment of Mexico's Caribbean, one of the most popular vacation destinations in the world, the Costamed group currently consists of two professional medical clinics located in the state of Quintana Roo; one in the Cozumel Island and the other in Playa del Carmen, only 50-minutes away from Cancun's International Airport, within Mexico's Riviera Maya.
For more information about Costamed visit its website at
http://www.costamed.com.mx/en.html
For more information please contact:
Rachel Rowling
Global Director, MBA
GORGEOUS GETAWAYS INC.
Edmonton, Alberta, Canada
Local (780)757-7772
Tollfree: 18006800594
Fax: 780-401-3242
Email: rachel(at)gorgeousgetaways(dot)com
Global Sales & Booking Offices
Canada/US: 1 780-757-7772 (8am-8pm)
Australia: +61 3 99398715 (7am – 7pm)
Free call numbers:
Australia: 1300 725 880
New Zealand: 0800-440662
UK: 0800-883-0592
USA and Canada: 1800-680-0594
# # #