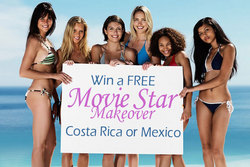 Safety and client satisfaction is our first priority and we consider ourselves privileged to share in the amazing transformational journeys of our clients. Rachel Rowling, Global Director
(PRWEB) February 9, 2011
How do movie stars look so great? Gorgeous Getaways has the secret and along with partners in Costa Rica and Mexico are offering someone the chance to win a free "Movie Star" makeover. Participants can enter by making an enquiry on the website and enter contact details, destination of choice and desired procedure(s). Participants are also asked to nominate a favorite movie star and why?
The winner selected is just one of thousands of clients who come from all over the world and choose to travel overseas with Gorgeous Getaways for cosmetic surgery in exotic locations like Malaysia, Thailand, Costa Rica and Mexico for half the price.
The Draw is on February 28, 2011, and will be announced March 1, 2011, with the date of surgery to be scheduled at a later date. The winner must be willing to consent to media and television enquiries. Travel and accommodation included. More details at Win a "Movie Star" makeover rules and contest details.
With so many former happy customers, Gorgeous Getaways encourages interested new clients to review the collection of case studies, read client testimonials or simply join discussion forums to ask questions. To view before and after photos or talk with past clients or chat with a surgeon send us an email or call 1800-680-0594.
Get Together Events: Canada and United States (Coming Soon!)
Get together with former clients and meet other people interested in looking "Gorgeous" or sign up to the mailing list. Otherwise, check back regularly for dates and venues across North America.
Media Opportunity and Enquiries
Interested in covering this story or other media interest contact:
Rachel Rowling
Global Director
Questions?
Need more information then please feel free to visit the website.
ENQUIRE TODAY!
HEAD OFFICE:
US/Can +1 780 757 7772
US/Can 1800-680-0594
Client Committment and Guarantee
Corporate Social Responsibility (CSR) Program
ABOUT US
Founded in 2004, Gorgeous Getaways is one of the original pioneers of medical tourism and regarded as the worldwide leader of quality, affordable cosmetic surgery holidays. Today, the company has sales offices in Canada/US, UK, New Zealand and Australia, with local operations in Malaysia, Thailand, Costa Rica and Mexico.
We have researched and selected the highest quality, internationally-recognized surgeons and hospitals that consistently deliver outstanding results. Our dedicated team on ground provide complete post-surgery care and exceptional, personalized service for optimal recovery.
Established relationships with providers provide Gorgeous Getaways with an edge - to offer the most competitive, full-service packages in exotic locations. With over 20,000 subscribers, numerous testimonials and case-studies, Gorgeous Getaways is world-renowned for quality and superior customer care with global clients, surgeons, hospitals, tourism bodies, industry affiliates and local government.
# # #