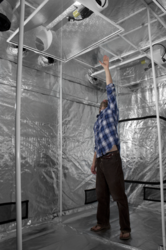 San Francisco, CA (PRWEB) January 16, 2013
Gorilla Grow Tent is the only grow tent on the indoor gardening market that enables a grow tent customer to increases their grow tent cubic foot grow space. This is revolutionary in the grow tent market place because traditionally grow tents have only been able to be set at a standard level and hamper the effective grow space and height of plants that want to grow greater than 4 feet tall. With Gorilla Grow Tents, a grower now can increase the height of their grow space in 20 minutes and effectively increase their harvest by a large percentage.
Grow Tent extension poles in the two foot (2') range are now available for sale and offered for ALL sizes in the Gorilla Grow Tent product line. The 2' extensions will complement the one foot (1') extensions that are currently shipping with each Gorilla Grow Tent. The free twelve inch (1') extension allows a customer to increase the height of their tent from the standard height of 7' to 8'. The 2' extension will allow a Gorilla Grow Tent customer the ability to go from the standard height of 7' to 9'on their grow tent. Then using the 1' and 2' extension together, the Gorilla Grow Tent customer can increase the height of their standard tent from 7' to 10'. The 2' extension poles join the list of world class Gorilla Grow Tent accessories like the double reinforced structural poles for no-stress accessory and component suspension, 10" port holes that zip up on both ends and tool pouches. The 2' extension poles are priced accordingly to the size of the tents they complement. Check out http://www.gorillagrowtent.com for more information.