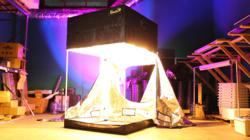 San Francisco, CA (PRWEB) August 30, 2012
Gorilla Grow Tent, the new leading manufacturer of grow tents, completely redesigned the grow tent by constructing the tallest, thickest, and strongest grow tent on the market. Along with having the first ever height adjusting grow tent, increasing the tent's size from 6'11" to 7' 11", Gorilla Grow Tent chose to increase the size a foot on both width and length of standard conventional grow tent sizes. The sizes they currently offer are 2'x2'.5", 2'x4', 5'x5', 5'x9', and 9'x9'. All flood and drain trays and most all hydroponic systems fits comfortably in any of these sizes with room to spare. According to indoor growers, this extra foot on both width and length also increases air circulation and results in much greater yields.
In the past, grow tents were mostly a standard 4'x 4'and only 6.5' or 7'tall. The larger sizes were 4'x 8', and 8'x 8ft tall and only offered at the standard height. These dimensional deficiencies did not allow standard ebb n flow trays and many popular hydroponic systems to fit comfortably inside the grow tent area. And, if they did fit in the grow room; the plants did not have ample room to spread out and breathe properly. Yields were stunted, as well as the indoor grower not being able to walk around their plants. The new 5'x5', 5'x9', and 9'x9' solves these problems, and allows for a comfortable, optimum indoor growing experience. For information go to http://www.gorillagrowtent.com.
About Gorilla Grow Tents
Frustrated with the current selection of grow tents, a group of California indoor gardeners, designers and engineers collaborated in San Francisco in 2011 to revolutionize the future of the indoor greenhouse. The goal of the collaboration was simple: produce the thickest, strongest most durable grow tent that could also adjust vertically to instantly increase grow space. After multiple design revisions and pending patents, the result of the collaboration is the Gorilla Grow Tent; the new standard in indoor greenhouse gardening. Grow Strong. Grow Gorilla. Guaranteed.