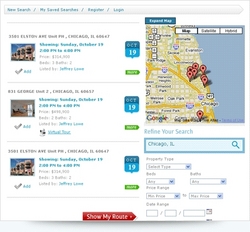 As online search technology evolves so will our products - we don't plan on just staying ahead of the curve
Chicago, IL (PRWEB) August 6, 2009
GorillaState, a real estate technology company, today announced the introduction of several new Web 2.0 products for real estate brokers, agents and teams. These new application platforms include GorillaRouter, GorillaDevelopments and full service Broker Websites.
GorillaState's flagship application is the GorrillaRouter, an open house search tool that offers visitors point-to-point directions to and from multiple open houses. "We offer innovative, forward looking tools for the real estate industry which allow brokers, agents and teams to attract more visitors to their websites, and in turn become more profitable." said Darrell Micheli, GorillaState's CTO. "Real estate search is a constantly evolving platform and the new generation of home buyers expects a level of ease and sophistication that brokers can leverage to attract and keep more customers."
GorillaState's team of engineers and interface designers decided to bring their years of first hand experience developing custom real estate websites and applications to the larger market by offering web 2.0 real estate websites that would cost tens of thousands of dollars for individual brokerages to develop, reduced down to a simple monthly fee to license their technology. Brokers can also be assured that as real estate web technology changes and evolves they will not need to worry about paying for costly upgrades and maintenance fees just to keep their websites up running. "As online search technology evolves so will our products - we don't plan on just staying ahead of the curve," says Micheli. "we plan on changing the course of real estate technology."
About GorillaState Real Estate Technology:
GorillaState is a real estate software solutions provider, offering unique and engaging marketing ideas for brokers and agents that rely on creative concepts rather than big budgets. GorillaState's innovative approach to guerrilla marketing for the real estate industry includes a suite of cutting edge, web 2.0 real estate applications designed to engage the consumer and create a memorable brand experience.
# # #