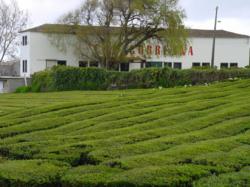 We look forward to demonstrating to more customers why we have the reputation as Europe's tea, since 1883.
Sao Miguel, Portugal (PRWEB) May 16, 2011
Gorreana Tea, a company that has been producing tea commercially in Europe for over a century, has announced the launch of its online store for both U.S. and Canadian consumers.
The company, which provides organic green and black teas grown at its estate in Portugal, decided to increase production and expand into the North American marketplace after finding that its teas have become a favorite of people all over the world. All of its products are hand-packed by its expert staff of tea growers.
"We are excited to offer our outstanding line of teas for the very first time in North America," said David Tavares, Director of North American Operations. "This is a chance for North American tea drinkers to discover why Gorreana's premium teas have been a staple in European pantries for over a century."
Family owned and operated since 1883, Gorreana Tea is the only estate left in all of Europe to have been consistently producing tea for over 125 years. Its teas are served at high-end restaurants and hotels all over the world, from the Posh Aroma Restaurant in London, Ontario to Paris' Chic Ritz Hotel and its exclusive new tea room, "La Vie en Rose."
Gorreana Tea is unique in that every step of the production process—from growing and processing to packaging and shipping—is handled from Gorreana's environmentally friendly estate. This means that consumers get the benefit of products that are completely manufactured by experts who respect the tradition of tea-growing excellence put forward by the company. It also ensures an eco-friendly production process with a minimal carbon footprint.
"No matter if you're a tea connoisseur or a first-time drinker, you'll find our teas to be some of the highest quality and best tasting available anywhere in the world," Tavares said. "We look forward to demonstrating to more customers why we have the reputation as Europe's tea, since 1883."
Gorreana Tea has set up its North American online store, available at http://www.gorreanatea.com, to help consumers select from the company's wide range of rare teas.
###