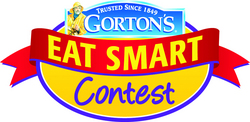 Gloucester, MA (PRWEB) March 14, 2009
Gorton's Seafood celebrates the launch of its new Smart & Healthy Kids micro-site with the "Gorton's Eat Smart Contest." The site promotes the healthful benefits of omega-3s, gives smart tips for getting picky kids to eat more seafood, and has yummy kid-friendly recipes.
The Gorton's Eat Smart Contest asks parents to send in their favorite tip, recipe, or story, as well as a digital photograph showing how they got their kids to eat smart by eating seafood rich in omega-3s. The grand prize is a home computer system, color printer, educational software and a year's worth of delicious Gorton's seafood (52 free products) that the whole family can enjoy. Ten (10) first prizes are a year's worth of Gorton's seafood (52 free products) and twenty (20) second prizes are monthly Gorton's seafood selections (12 free products).
The new micro-site, http://www.gortons.com/smartkids, partners Gorton's Seafood with Dr. Michael Crawford, PhD, a leading expert on brain development. The site provides information on brain health and development, nutrition, and the importance of helping kids grow up smarter by providing a diet rich in seafood, a natural source of omega-3s.
"We are very excited to launch the new Gorton's Smart & Healthy Kids micro-site. Dr. Crawford reminds moms of the importance of introducing seafood to children early in order to establish a lifetime of smart eating habits," stated Jodi Nedrow-Counihan, Director of Marketing, Gorton's Seafood. "We launched the Gorton's Eat Smart Contest to encourage parents to think creatively about how to serve seafood to their youngsters. Our hope is that we'll be able to share lots of great consumer-generated tips and recipes on the micro-site."
Gorton's is also offering downloadable coupons on their website and a digital newsletter, "Postcards from the Gorton's Fisherman," which provides monthly recipes and coupon offers.
The Gorton's Eat Smart Contest, which runs between March 1, 2009 and May 31, 2009, invites consumers to enter to win online by uploading a digital photograph and a 150-word tip or story. For official rules, online entry forms and more information about Gorton's Seafood, visit http://www.gortons.com/eatsmartcontest.
About Gorton's
Founded in 1849, Gorton's is one of America's oldest continuously operating companies. Headquartered in Gloucester, Massachusetts, Gorton's continues to be the innovative leader in the seafood industry. Gorton's full line of frozen seafood products includes Breaded and Battered Fish Sticks and Fillets, Flavored Fillets, Tenders, Shrimp Bowls, Popcorn Shrimp, Grilled Fillets, including Tilapia and Salmon, Premium Fillets, and now, Grilled Shrimp. Gorton's products are available nationwide in better independent and chain grocery stores. Gorton's proudly stands behind its products with its "Trust the Fisherman Guarantee," which represents an unwavering commitment for over 150 years to providing the best-tasting, highest quality seafood meals. Among consumers the Gorton's Fisherman, in his yellow slicker and rain hat, has become an icon symbolizing this commitment. For more information, please visit http://www.gortons.com or call 1-800-222-6846.
###