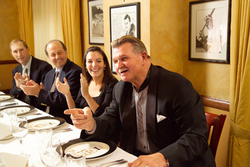 Chicago, IL (PRWEB) March 26, 2009
In May, all eyes turn to Broadway when the 2009 Tony Award nominations are announced and while the current economy may prevent you from traveling to "The Great White Way" there are numerous live stage performances and cultural opportunities throughout greater Chicagoland.
Theatre buffs and local residents are invited to post tips about their Chicago travel experience at GoSeeChicago.com. The newly designed, interactive website allows visitors to share their suggestions on topics ranging from where to eat to best hotels and affordable attractions. Photos can be shared with each tip along with the opportunity to compare your travel profile with similar users. The site also allows visitors to create their own personalized tour and receive custom travel recommendations. If you want a getaway that is set specifically for you or are looking for suggestions from local experts, explore GoSeeChicago.com.
As an added incentive, tips posted from now through April 30, 2009, will be entered into a random drawing for a Show & Stay Getaway. See one of the hottest musicals to hit the stage and win an overnight stay just west of Chicago in DuPage County, The Magnificent Miles West of ChicagoTM. The winner will enjoy overnight accommodations at the Staybridge Suites Hotel in Oakbrook Terrace, a $100 gift certificate to the famous Ditka's restaurant and two weekday tickets to Jersey Boys at the Bank of America Theatre. Receive one entry per every tip. Visit GoSeeChicago.com for full contest details. A new contest is unveiled every few months so check back often and continue to share your recommendations.
The spring forecast for Chicagoland calls for leisurely rounds of golf, scrumptious meals at open-air cafes, shopping bargains and hours of family entertainment. Share your tips on what to see and do or explore new ideas at GoSeeChicago.com. The input and feedback from local residents and regular visitors just like you is what makes this site unique. It's like having a network of hundreds of expert tour guides at your finger tips who share your interests and preferences.
Brush off the winter blues, feel the music and enjoy the fun. Enter now for your chance to Jersey Boy tickets with the Show & Stay Getaway. For more information or to sign up, visit GoSeeChicago.com.
About Chicago Plus
Chicago Plus - one of the State of Illinois' Regional Tourism Development Offices - is a non-profit organization that promotes tourism and leisure activities in the greater Chicagoland area. It represents the following regions: Aurora Area, Chicago Downtown, Chicago Southland, Chicago's North Shore, Chicago's North Suburbs, DuPage, Elgin Area, Geneva, Heritage Corridor, Lake County, Lisle, Oak Park Area, Rosemont, St. Charles, and Woodfield Chicago Northwest. For more information: VisitChicagoland.com.
About GoSeeTell Network, Inc.
GoSeeTell Network builds customized social networks that allows destination marketing organizations to offer user-generated content as part of their online presence. The GoSeeTell team has more than 30 years of experience in the fields of travel, travel journalism and website development. For more information: GoSeeTell.com.
# # #