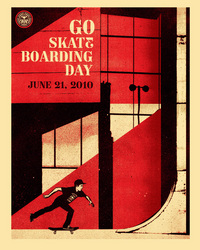 "Skateboarding changed my life," said Fairey.
Rancho Santa Margarita, CA (PRWEB) March 24, 2010
The International Association of Skateboard Companies (IASC) announced the 8th annual Go Skateboarding Day to take place on the first day of summer, June 21st, 2010. This day brings together the skateboarding community and gets them out en masse for a day dedicated solely to skateboarding.
Go Skateboarding Day works to honor and unite participants in the spirit of skateboarding and since its 2003 inception has prompted cities to build skate parks, promoted local skate shops and raised money for local charities. Go Skateboarding Day started out as a small group of colleagues skating to the Huntington Beach Pier and has grown into a worldwide event with millions of participants. June 21st was selected as the official day because it is the longest day of the year and it marks the first day of summer. The event continues to grow exponentially each year as an official holiday and 2010 is sure to bring great achievements for the skateboarding community.
"[We see Go Skateboarding Day] continuing to get the global skateboard family together to share their passion, creativity and fun. As long as this happens mission accomplished," said Don Brown, Chairman of the IASC Board of Directors and Vice President of Marketing at Sole Technology.
This year's Go Skateboarding Day poster was designed by Shepard Fairey, the contemporary artist who has long been a supporter of the skateboarding community. Fairey first rose to popularity in the late 80's with his Obey Giant street art campaign; today, his work can be found everywhere from street corners to the National Portrait Gallery. Known for his involvement with numerous charity organizations, the Go Skateboarding Day collaboration is another example of Fairey's commitment to the skateboarding community from which he emerged.
"Skateboarding changed my life," said Fairey. "When I was a teenager, I needed a creative, physical outlet that didn't require me to join a team, and skateboarding was just that. I enjoyed the aggression and stress relief it provided, as well as the creative progression it allowed me to make. The culture of skateboarding also inspired me to make stencils and homemade t-shirts, activities that led to the career I have today. I owe so much to skateboarding for its influence on me, so it's a pleasure to try to inspire others to skate."
Past collaborations have featured well-known artists including professional skateboarders Steve Caballero and Ed Templeton.
For more information, go to http://www.goskateboardingday.org/ or Facebook, to find local Go Skateboarding Day events. Flyers, information packs, and other materials to help skateboarders create their own events and spread the word are available on the Go Skateboarding Day Web site.
About IASC
The International Association of Skateboard Companies (IASC), a non-profit organization that represents the united voice of the skateboard industry to the outside world, was founded in 1994. In 2003, IASC was restructured into the organization that founded Go Skateboarding Day on June 21, 2004. Driven by skate industry leaders, IASC strives to promote skateboarding and increase participation, save members money, and educate. For further information, please visit http://www.skateboardiasc.org.
About Go Skateboarding Day
Go Skateboarding Day, held June 21st of every year, is the official holiday of skateboarding. Event locations are disclosed at local skate shops and on http://www.goskateboardingday.org, where you will also find info on how to create your own event, fundraiser or rally, among other things. While the holiday grows, the mission remains the same: Go skateboarding and have fun.
###