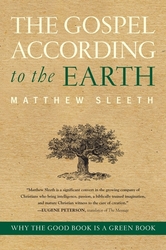 "From theology to lifestyle tips, Sleeth has created a masterpiece for the green revolution of God."—Shane Claiborne, author of The Irresistible Revolution
San Francisco, CA (PRWEB) March 24, 2010
In 2003, Matthew Sleeth left a lucrative job as an emergency room director and chief of medical staff to dedicate his life to caring for the planet. Now, in THE GOSPEL ACCORDING TO THE EARTH: Why the Good Book is a Green Book (April, 2010; HarperOne), he tells the story of how he made this life-changing decision. Revealing the Bible's mandate for us to care for the environment, Sleeth shows how we can follow in his footsteps by taking small actions to reduce our carbon footprint.
In his former life in the ER, Sleeth had seen a disturbing increase in asthma, autoimmune diseases, cancer, and other environmentally related disease. One slow night he picked up a Gideon's Bible, and in reading the gospels, found both the spiritual and environmental answers he had long been seeking. As a result, the Sleeth family took a hard look at their lifestyle, drastically reducing their reliance on electricity and fossil fuels, and moved from their large postcard-perfect three-story home into a house that he jokingly says "could have fit in his old garage."
In THE GOSPEL ACCORDING TO THE EARTH, he leads us on a highly creative journey through Scripture, visiting some of the most important characters in the Bible and discovering what they can teach us about issues such as stewardship, caring for our neighbors, climate change, and pollution.

Adam and Eve in the Garden of Eden teach us the importance of physical work in relation to discovering fulfillment and a sense of human purpose
The prophet Daniel calls us to question our dietary habits
The story of Noah addresses key issues for life on earth: how do we relate to the Creator and to others in the human community, and to the rest of the natural world?
With passion and faith, Sleeth provides a new green lens through which we can read the Bible to discover answers to our biggest questions about the environment and how to care for it.
J. Matthew Sleeth, MD, a former emergency room director, now writes, preaches, and teaches full-time about faith and environment. He is the author of Serve God, Save the Planet and the general editor of The Green Bible. With his wife, Nancy, and their two children, he helps lead the growing creation care movement. The Sleeths live in Wilmore, Kentucky. Visit the author at http://www.matthewsleethmd.com.
THE GOSPEL ACCORDING TO THE EARTH
Why the Good Book Is a Green Book
by Matthew Sleeth
HarperOne; March 30, 2010
Hardcover, $22.99
ISBN# 9780061730535
###