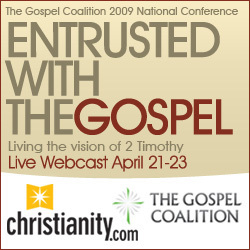 The partnership between The Gospel Coalition and Christianity.com is extremely important to us as we strive to provide solid Biblical content to our audience
Richmond, VA (Vocus) April 14, 2009
Christianity.com, the online destination for Christian spiritual growth with Bible and theology resources, is excited to announce a special partnership with The Gospel Coalition. From April 21st - 23rd, Christianity.com will be streaming The Gospel Coalition's 2009 National Conference in a free Webcast. Live from the Donald E. Stephens Convention Center in Chicago, Illinois, the conference will feature some of evangelical Christianity's most recognized pastors and leaders exploring the theme Entrusted with the Gospel: Living the Vision of 2 Timothy.
"The partnership between The Gospel Coalition and Christianity.com is extremely important to us as we strive to provide solid Biblical content to our audience," said Stephen McGarvey, Executive Editor of Crosswalk.com and Christianity.com. "The Gospel Coalition's mission of encouraging churches across the country to make the gospel of Jesus Christ central to all they do, is a vision we whole-heartedly support."
"We are encouraged by our partnership with Christianity.com and the Salem Web Network," said Ben Peays, Executive Director of The Gospel Coalition. "With SWN's vast reach, this is a strategic alliance that will strengthen our efforts to impact evangelical Christianity with a Gospel-centered vision for ministry."
Featured pastors and Christian speakers include John Piper, Tim Keller, Mark Driscoll, Don Carson, Ligon Duncan, Bryan Chapell, K. Edward Copeland, Ajith Fernando, and Phil Ryken.
"The conference line-up of speakers represents some of most trusted and thoughtful theologians in America today," McGarvey added. "We believe The Gospel Coalition's message will be of great benefit to Christians in all stages of their faith -- from new believers to seasoned pastors."
After the event all conference videos will be available on demand for free at Christianity.com.
To learn more about The Gospel Coalition's 2009 National Conference live Webcast visit http://www.christianity.com/gospelcoalition. To watch Theological Video Answers from pastors and Christian leaders visit http://www.christianity.com/videoanswers.
About Christianity.com
Christianity.com is a leading provider of Christian content dedicated to helping users grow in their Christian faith and Bible knowledge. Christianity.com is owned and operated by the Salem Web Network, (SWN) the online division of Salem Communications. SWN consists of 12 national sites, including the most well-known brands in the faith marketplace, such as Crosswalk.com, OnePlace.com, and Bible Study Tools. Visit: http://www.salemwebnetwork.com.
About The Gospel Coalition
The Gospel Coalition is a group of Christian leaders in the Reformed tradition who delight in the truth and power of the gospel, and who want the gospel of Christ crucified and resurrected to lie at the center of all they cherish, preach, and teach. The Gospel Coalition seeks to foster a network of Christian pastors and leaders who stimulate one another to faithfulness and fruitfulness in life and ministry in this rapidly-changing, increasingly urbanized, and spiritually hungry world. Visit: http://www.thegospelcoalition.org.
About Salem Communications
Salem Communications (NASDAQ: SALM) is a leading U.S. radio broadcaster, Internet content provider, and magazine and book publisher targeting audiences interested in Christian and family-themed content and conservative values. In addition to its radio properties, Salem owns Salem Radio Network(R), which syndicates talk, news and music programming to approximately 2,000 affiliates; Salem Radio Representatives(TM), a national radio advertising sales force; Salem Web Network(TM), an Internet provider of Christian content and online streaming; and Salem Publishing(TM), a publisher of Christian-themed magazines. Upon the close of all announced transactions, the company will own 93 radio stations, including 59 stations in 23 of the top 25 markets. Additional information about Salem may be accessed at the company's website, http://www.salem.cc.
Contact:
Kristie Rutzel
(804) 205-9674
kristie.rutzel(at)salemwebnetwork.com
###