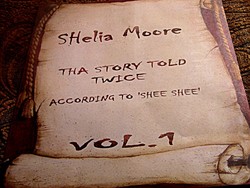 Sometimes, it's pretty hard to choose the right song. But, my hope and prayer is that through my music, the word of Jesus Christ can be lifted.
Los Angeles (PRWEB) September 22, 2009
Introducing …. Shelia Moore … aka Shee- Shee! She brings the newest sound to contemporary gospel music with her sophomore release, "Tha Story Told Twice." Perhaps, carving out a new category of gospel music, she labels her music as "Christian soul" with the influences of hip hop and R&B grooves over a smooth melodic voice, drawing from urban funky sounds, live instruments, and unique orchestrations. Currently, her CD is available on CDBaby.com/sheliam2 and iTunes.
Last month, Moore debut her music during a recent CD release party at Club Chateau in Houston. "Tha Story Told Twice" is getting some airplay, with popular tracks like "Single Lady" and "Rest Your Mind." Her music can be heard on KTSU-FM (90.9), KCOH-AM (1430), and the inspiration station, KROI-FM (92.1), which is the home of the Yolanda Adams Morning Show.
Breaking new ground, and creating a new genre of gospel music, Moore is excited that people are embracing the new and defining sound of Christian music. "As an artist, I want my music to uplift and inspire. Through the years, the sound of gospel music has changed in order to speak to a new generation," she says. "Still, the message is still the same: Jesus is the way, the truth and the light. I want people to know Jesus Christ and get connected to him."
Many well-known musicians helped make the project a success, including her husband and side-kick producer, Glenn "GP" Piper as well as her younger brother, Walter "Kadrae" Broughton, who sang background and produced a couple of tracks. Other vocalists that lend their musical talents, include Liz Vaughn on "Give Praise," Shei Atkins on "Were Not," Gene Moore Jr. on the bonus track "You Know I Will," and Gary Mayes and Allegro Adams (Yolanda Adams' younger sister) on the "Give Praise Remix."
In 2002, the Houston native independently released her debut CD, "Serious About You." Moore considers the first album to be a warm up act, because she felt that she needed to grow spiritually, musically and creatively. "You really have to choose a song that the Lord gives you, and let it minister to you in the way that it should," she explains. "Sometimes, it's pretty hard to choose the right song. But, my hope and prayer is that through my music, the word of Jesus Christ can be lifted."
The title of the album, "Tha Story Told Twice," is a nod to the Psalms 62:11 scripture which states, "Once this was spoken but, twice have I heard this." And since some of the songs on this album were remixed from the last album to showcase Moore's spiritual growth and musical flair, she felt the title was fitting.
Of course, Moore has drawn her musical inspiration from some of the great names in contemporary gospel music like Yolanda Adams, CeCe Winans, Kirk Franklin, Mary Mary, Dorinda Clark and Karen Clark-Sheard; still ultimately, her main inspiration is the word of Jesus Christ. "The power of the Lord is awesome!" she says. "Especially through times of difficulty."
Moore received a bachelor's degree in music from Southern University-Baton Rouge in La. and an associate's degree in music and video business at the Art Institute of Houston. She has lifted her voice and talents at various special events, including "Koinonia" at Lakewood International, where mega church pastor Joel Osteen presides.
Check out clips of the album release party on YouTube.com. Search: Shelia Moore or visit http://www.myspace.com/mssheliamoore.
#30