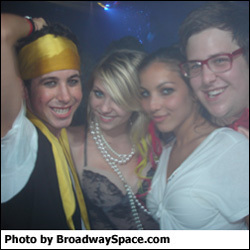 New York, NY (PRWEB) August 5, 2008
BROADWAYSPACE.COM, the social networking site linking fans and stars of Broadway, Off-Broadway and more, has exclusive photos of the young teen star of Gossip Girl, Taylor Momsen, at her birthday at The Awesome 80s Prom, the long running interactive Off-Broadway show held at New York City's Webster Hall.
According to audience members, "Little J" (Momsen's character on Gossip Girl), arrived in a Madonna-inspired 80s outfit, and had an "awesome" time at The Prom, dancing and improvising with characters from the show.
She even shared a slow dance with "Blake Williams", The Prom's 'Captain of the Football Team'.
But BroadwaySpace.com's Randy Rainbow reported that no one could tear the recently turned 15 year old rising star away from her boyfriend that night.
They were seen making out in the corner all night long. "Blake" was broken hearted.
MORE ABOUT THE AWESOME 80S PROM
The Awesome 80s Prom, called "TOTALLY RAD" by The New York Times, is the smash hit blast-from-the-past interactive party now in its 4th smash year. All your favorite characters from your favorite '80s movies are at THE PROM, from the Captain of the Football Team to the Asian Exchange Student, from the Geek to the hottie Head Cheerleader, and they're all competing for Prom King and Queen. And just like on "American Idol", the audience decides who wins, all while moonwalkin' to the 80's most awesome retro hits at New York City's famed nightclub, Webster Hall!
The Awesome 80s Prom is held every Saturday night at 8 PM! For information including how to buy tickets, visit http://www.Awesome80sProm.com or call 1-877-RAD-PROM.
MORE ABOUT BROADWAY SPACE.COM
BROADWAYSPACE.COM is one of the fastest growing social networks on the web, connecting thousands of Broadway fans from around the world.
Some of the more than 6,000 members include Broadway stars Adam Pascal (Rent), Idina Menzel (Wicked), Laura Bell Bundy (Legally Blonde), Laura Benanti (recent Tony Award Winner for Gypsy), Sherie Rene Scott (The Little Mermaid) and more.
In addition to the user generated content of over 10,000 photos, 800 videos, and 2000 forum postings, BroadwaySpace.com features daily gossip from Randy Rainbow and reviews by Daniel Wolpow.
###