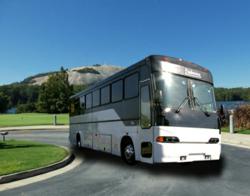 Executive Services is an expression of our commitment to customer service. - Zac Goss
Atlanta, GA (PRWEB) May 08, 2013
Just in time for summer planning, Goss RV's introduces Executive Services Selections. "Executive Services is all about options," says Ken Goss. "Our busy clients can select the services that best meet their needs. A client's perfect services combo might be a driveway delivery service and destination motor coach set up services, or the private driver services combo."
"Customer service is very important to us," says Zac Goss. "We want you to have a great experience on your trip and help you create lasting memories. Executive Services is an expression of the company's ongoing customer focus."
"Whether you'd like to drive one of our high-end luxury RVs yourself, have a driver, or have it delivered to your preferred location, we take care of the logistics so you don't have to worry about that," explains Jer Goss. No special license is required if the customer wants to do the driving.
For those who would rather kick back and have Goss team arrange for a driver, there are two popular options in the Private Driver Services category. One option is that the driver will show up when you are ready to leave, do all the driving, and disappear to a hotel until you are ready to start out on the next leg of your journey. Or, he can also be your professional co-pilot and guide as you travel, coaching you if you would like to learn cross-country coach driving and RV pro-level handling techniques.
While many travelers request a Goss Luxury RV to be delivered right to their driveway at the start of one of those unforgettable trips, Ken Goss notes that corporate executives may want to touch base with them to do some quick business event planning. "If it's a corporate event, where do they need the coach and where are they going," Ken says. "To match the right coach to the specific client requires asking the right questions."
For others, the Set-Up Services team can deliver a coach to your destination of choice, where it will be waiting for you. From a luxury RV resort or campground, a NASCAR race or other sports venue, to a performer's entertainment venue or convention center, the Set-Up Services team can bring the coach to a destination, even if it's at the last minute. "Sometimes, people assume it is too late to arrange the perfect trip. When in doubt, give us a call. Since we have so many locations, we sometimes have excellent coaches available at the last second," adds Goss.
About Goss RV Inc.
Goss RV Inc. is a family-owned business headquartered in Atlanta, Georgia. With more than 30 years of experience, they provide the best full-service solutions for luxury motorhome rentals across the United States and Canada. To inquire about booking a luxurious coach from Goss RV and including Executive Services this summer, call 770-938-2035 or visit http://www.gossrv.com.