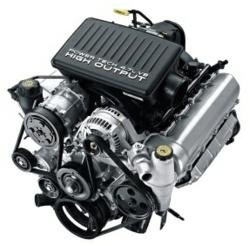 The engines that are distributed by Got Engines come directly from distributors that are OEM Dodge engine suppliers.
Dallas, Texas (PRWEB) September 15, 2012
http://www.GotEngines.com, the used engine retailer, is now shipping used Dodge engines for sale totally free of charge to U.S. customers. This price change is an effort to help small businesses like junkyards, mechanics and body shops that can benefit from the elimination of shipping prices. Got Engines works closely with freight carriers in the U.S. to move engines inside the continental U.S. for standard engine delivery. Companies that want to learn more about Got Engines or the new free shipping offer for used Dodge engines can visit the GotEngines.com website.
Dodge vehicles are some of the most in demand for both new and used condition. Chrysler, the parent company of Dodge, is a major competitor to General Motors and Ford in every class of vehicles. Cars like the Neon helped build up the reputation for Dodge as a quality maker of compact cars. The pickup truck brands that Dodge produces are among the top five selling vehicles in the world.
The consumer demand for Dodge vehicles remains in a high position especially in the secondary market. Sales of preowned vehicles have climbed over 25 percent in the past 5 years as more vehicle owners are taking advantage of zero percent financing offers for new car purchases.
The used engines located and purchased by Got Engines are above average quality according to a source for the company. There are hundreds of wholesalers and distributors currently serving the needs of small business owners and distribution centers in the United States. Vehicles like Dodge that are in high demand can be salvaged or sold to secondary companies that resell the auto parts to distributors or other intermediaries.
The engines that are distributed by Got Engines come directly from distributors that are OEM Dodge engine suppliers to ensure that quality is kept to the best standards for customer engine swaps and replacements.
Warranty protection is one topic that has grown in recent years due to the rise of auction websites and classified listings online that often list engines from any buyer or seller in the world. There is currently no requirement that a warranty must be given with a used engine. Not all sellers that offer engines offline or online attach warranty coverage to the purchase price. It is quite common for a customer to pay additional fees to receive 30, 60 or 90-day warranty coverage.
Got Engines is now offering parts warranty extensions for most in stock engines to help customers replacing a high mileage engine with another used one. The complete warranty coverage is included for no additional cost and is applicable to all in stock engines from Dodge, Chevrolet, Ford, Toyota and Chrysler engines.
About Got Engines
With one warehouse and a small team of experts, Got Engines built up its company to what it has become today in the secondary automobile engines industry. Using a strategy of low prices and pre-shipment engine inspections has helped GotEngines.com to gain consumer confidence and trust when selling engines on the Internet. A new free shipping incentive is now offered to business customers and regular customers that purchase used engines from Got Engines. This is effort is designed to help reduce the cost of shipping engines in the continental U.S. by major freight carriers that handle auto engines.