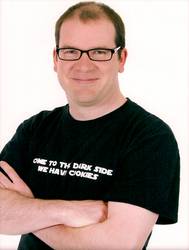 Any small business owner with an interest in making more money, faster, will benefit from GotBiz.tv
Salt Lake City, UT (PRWEB) September 10, 2009
With the erratic economy continuing to send jolts of fear and uncertainty throughout the business world, the launch of GotBiz.tv couldn't have come at a better time. With its injection of fast, fun and free business training from a variety of industry experts, GotBiz.tv is a new source of information and inspiration for millions of entrepreneurs across the globe.
The journey to this point is remarkable. 18 months ago, maverick marketer Andrew Lock filmed the first episodes of an innovative Web TV show, "Help! My Business Sucks!" out of his cramped garage in Sandy, Utah. His quirky, irreverent approach to helping businesses stand out from the crowd quickly made it an international phenomenon. The show is now the #1 show for entrepreneurs on Apple iTunes, and it also shares the Top 10 in the business category of iTunes with Oprah Winfrey, Jim Kramer, and Suze Orman.
Based on the runaway success of "Help! My Business Sucks!", on 9/9/09 Andrew launched GotBiz.tv, the world's first Web TV network to offer original, on-demand business training to educate, entertain, and inspire entrepreneurs worldwide. Each show is delivered in a spirit of optimism and good humor, consistently tying into the theme of the network: 'business doesn't have to be boring.'
GotBiz.tv features an ever-expanding collection of hip "edu-tainment" shows for the contemporary small business owner. Hosts and guests on this highly anticipated network include Kristi Frank from Donald Trump's "The Apprentice," Shawn D. Nelson, winner of Richard Branson's "The Rebel Billionaire," and of course Mr. Lock himself, with his popular "Help! My Business Sucks" show.
"Any small business owner with an interest in making more money, faster, will benefit from GotBiz.tv," says Andrew. "Obviously in this recession there are countless business owners who are struggling, desperately trying to keep their businesses afloat. GotBiz.tv provides instant help in all aspects of running a successful business - sales, advertising, accounting, e-commerce, managing employees, there's even a show about iPhone apps for entrepreneurs--and it's all free."
GorBiz.tv launched on 9/9/09 and the network is partnered with Revision3.com
For more information, visit: GotBiz.tv
###