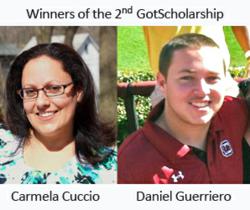 Orlando, Florida (PRWEB) April 11, 2013
As the average individual student loan debt in the US reaches over $25,000 causing the national student debt to surpass one trillion dollars, questions amongst students arise about what can be done. GotChosen, Inc. has proven that companies, both big and small, can make a significant difference. Their $40K scholarship programs continue to help students transform their educational dreams into a reality.
Headquartered in Orlando, Florida, GotChosen is an innovative startup developing proprietary technologies looking to change the face of multimedia as we know it. Through the GotScholarship $40K Give Away program the company has managed to define what it truly means to be a contributing community when GotChosen's second winner, Carmela Cuccio, was announced.
What makes Ms. Cuccio's story so inspiring? This scholarship is designed so that participants can apply and invite their friends and family to support them and increase their chances of winning. Carmela's younger cousin, Daniel Guerriero, sent her an invitation to be one of his sponsors and after registering and applying herself, she was randomly chosen as the winner. She then transferred the substantial $40,000 prize to Daniel, who will use the money to further his education at the University of South Carolina.
"I am so excited about all of this!" Carmela announced. She has a great deal to be proud of considering she is helping Daniel fulfill his hopes of becoming "the first member of his immediate family to get a college degree" through a less stressful, more achievable reality.
The 2nd GotScholarship $40K Give Away drawing was held at Palm Beach Atlantic University Orlando Campus. The winner was randomly chosen by Dean Craig Domeck, Ed.D., under the supervision of auditing firm Cross, Fernandez and Riley, LLP.
"Once we were informed a sponsor was drawn as the winner, it became the realization of one of my dreams to have families work together so their children could achieve a college education," stated the company's Founder and CEO, Osvaldo Silva. Mr. Silva also expressed his desire that more of corporate America would engage in similar philanthropic endeavors.
GotChosen is determined to continue paving the way with new hope for students to reach their dreams of a higher education with the 3rd GotScholarship $40K Give Away, as well as through its newly launched $1,000 monthly scholarships. Additional opportunities are in development, details will be released soon at http://www.gotchosen.com.
For more information about GotChosen, Inc. and how to enter its multiple scholarship programs visit http://gotchosen.com/